Kevin McCarthy's Pathetic Defense for Giving January 6 Footage to Tucker Carlson
The House speaker keeps coming up with new reasons why the Fox News host should get access.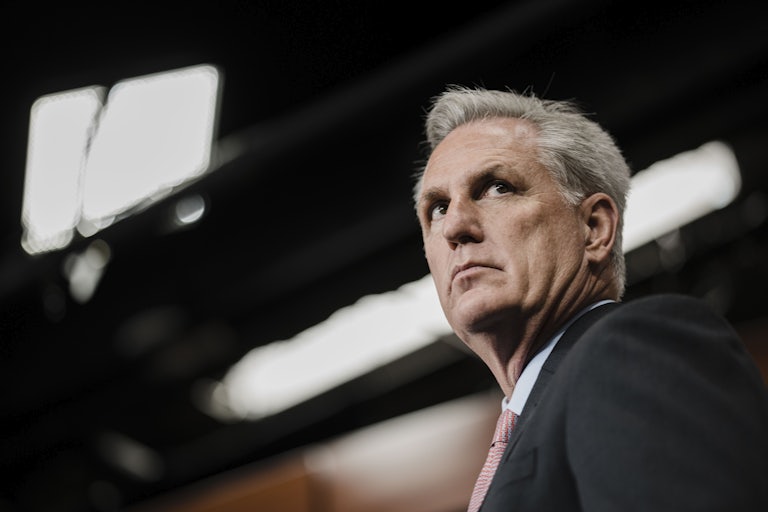 Kent Nishimura/Los Angeles Times/Getty Images
House Speaker Kevin McCarthy has accused the news media of being "jealous" that Fox News host Tucker Carlson got there first to ask for access to the security footage from the January 6 attack.
McCarthy has come under fire for giving Carlson exclusive access to 41,000 hours of security footage from the 24 hours surrounding the insurrection. Democrats are worried that Carlson, who has repeatedly downplayed the severity of the attack and claimed it was a false-flag operation, will use the videos to spread more disinformation about January 6.
"It almost seems like the press is jealous," McCarthy told The Washington Post. "And that's interesting because every person in the press works off exclusives on certain things."
"People like exclusives, and Tucker is someone that's been asking for it," said McCarthy, describing Carlson's coverage as "opinion," not news. "So I let him come in and see it, but everyone's going to get it."
Putting aside the fact that McCarthy's main argument is that Carlson called first dibs, giving Fox News access in any case is dangerous. As Representative Alexandria Ocasio-Cortez pointed out, "They are experts in manipulating media and cutting context, so it's absolutely true that they may take some of that tape and manipulate it in really disturbing ways that could incite violence."
Carlson and his colleagues are fully aware that they are spreading conspiracy theories and false information about the 2020 election and January 6. Fox News owner Rupert Murdoch admitted he knew his organization was spreading lies about the 2020 election results in a deposition for a lawsuit filed by Dominion Voting Systems made public Monday. A week earlier, Dominion also released a trove of messages and depositions from anchors, including Carlson, in which they admitted they knew the election conspiracies were false but continued to share them anyway.
Releasing the footage could provide key information to anyone who might want to try to redo January 6. The videos could reveal strategic locations in the Capitol, such as safe rooms and cameras, as well as give people a better sense of the building's layout, making it harder for lawmakers to run and hide.
McCarthy has managed to one-up himself, though, announcing Tuesday that the January 6 footage would also be made available to the defense lawyers for people charged in connection with the riot.

The California Republican insisted that the footage was already made available to the defendants under former House Speaker Nancy Pelosi. But a Pelosi spokesperson said she never authorized access to the footage "because Speaker Pelosi did not have that authority and believes that it appropriately belongs to security officials."
McCarthy also accused the Democrats of hypocrisy because the House January 6 investigative committee had shown footage from the day, and Pelosi's daughter had posted a video online of lawmakers in a secure military base after evacuating the Capitol.
Alexandra Pelosi's video did not show the escape route from the Capitol or any information about their location that was not already publicly known. A spokesman for the January 6 committee had already said in a statement that any footage shown during the hearings "was treated with great sensitivity."
"Access was limited to members and a small handful of investigators and senior staff, and the public use of any footage was coordinated in advance with Capitol Police. It's hard to overstate the potential security risks if this material were used irresponsibly," the spokesman said.