CVS and Walgreens Will Now Sell Abortion Pills After FDA Rule Change
These are two of the biggest pharmacy chains in the country.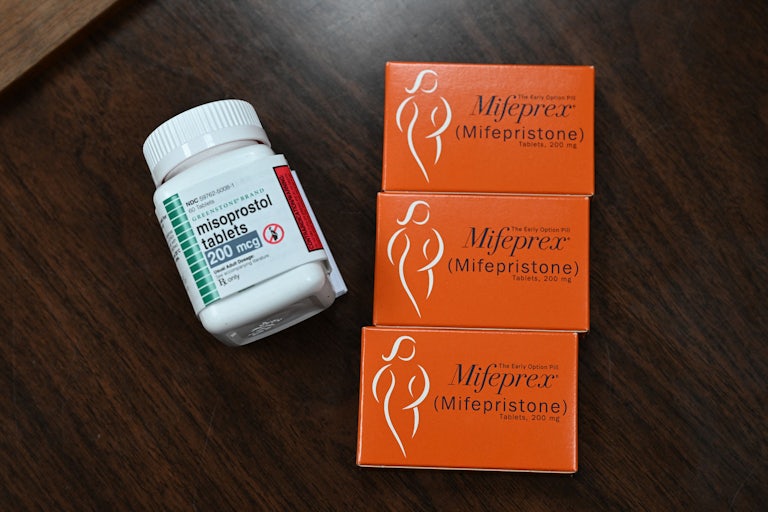 ROBYN BECK/AFP/Getty Images
Mifepristone (Mifeprex) and Misoprostol, the two drugs used in a medication abortion
CVS and Walgreens, two of the biggest U.S. pharmacy chains, say they plan to offer abortion pills after a rule change this week from the Food and Drug Administration.
The FDA announced Tuesday that it would allow retail pharmacies to dispense mifepristone, one of the medications used to induce abortions, for the first time in the United States. Unfortunately, pharmacies in states that have banned abortion since the Supreme Court rolled back the nationwide right to the procedure will not be able to sell the drug.
Pharmacies must first apply for certification from one of the two companies that makes mifepristone. Once they are certified, pharmacists can dispense the drug to anyone who has a prescription.
CVS and Walgreens said Wednesday they were both seeking certification, although they did not specify when they would be able to start dispensing mifepristone. Rite Aid said it was looking into FDA action.
Many reproductive health care experts noted, though, that the FDA rule change is not as big a win as it is being marketed.
Greer Donley, a professor at the University of Pittsburgh School of Law, pointed out that the certification process is complicated enough that it could turn some pharmacies off. What's more, there are still multiple barriers to accessing abortion pills, which are highly regulated.
Hayley McMahon, a reproductive health researcher, said that while it's "significant" that the pharmacy chains have committed to seeking certification, it remains to be seen how much the new FDA rule will affect abortion access.
"This is a step in the right direction, but I do want people to understand that pharmacy certification is still a blatantly unnecessary restriction that is not supported by evidence," she told The New Republic, referring to the FDA's decision to continue classifying mifepristone as a high-risk drug, despite no data backing that up.
The second drug needed to complete a medication abortion, misoprostol, is not restricted under the FDA's high-risk regulation and is already available at retail pharmacies. Anyone prescribed abortion pills will be able to get both medications at any pharmacy certified to dispense mifepristone.
Abortion pills are seen as a key resource in the fight for reproductive rights because they are easier to access than surgical abortions.
Medication abortion currently accounts for more than half of all abortions in the United States, according to the Guttmacher Institute. The pills were already available at reproductive health clinics, from medical care providers, and from mail-order pharmacies. In the two months immediately following the Supreme Court decision, there was also a surge of orders for abortion pills from overseas.
This post has been updated.