Georgia Republicans Want to Charge People Who Get Abortions With Homicide
Meanwhile, the majority of Georgians say they want to keep the procedure legal.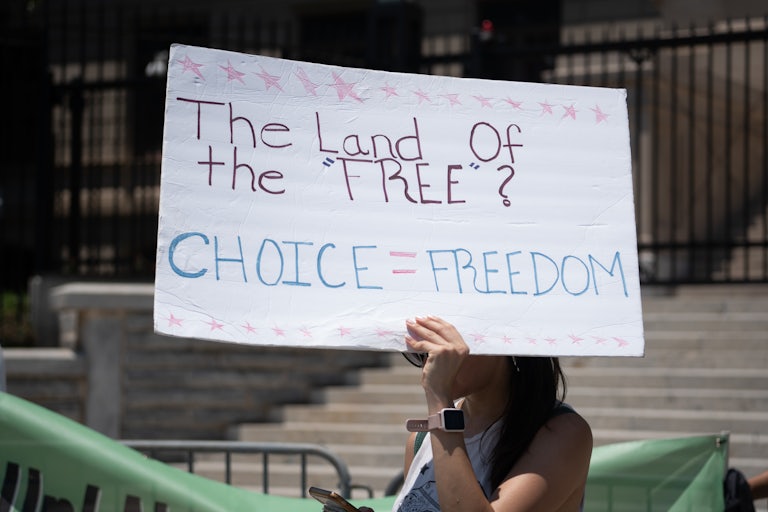 Megan Varner/Getty Images
A protester holds a sign while marching and chanting through Downtown Atlanta on July 23.
Georgia Republican lawmakers have introduced a bill that would classify abortion as a homicide, despite their own constituents' widespread opposition to banning the procedure.
The bill, introduced Thursday, would classify a human as an "unborn child at every stage of development from fertilization until birth." As a result, terminating a pregnancy could be considered and prosecuted as a homicide. Writer Jessica Valenti noted that since the bill says life begins at fertilization, people who use IUDs or emergency contraception—both of which prevent fertilized eggs from implanting—could be charged with murder.
The legislation makes exceptions for medical procedures carried out to save the life of the pregnant person, done because there were no viable other options to save the fetus, or that resulted in an accidental miscarriage. People who got abortions would be found not guilty of homicide if they could prove they were coerced or misled into getting the procedure.
If it passes, this bill would both fly in the face of what people actually want when it comes to abortion legislation and be incredibly dangerous for people's health and well-being.
The majority of Americans, 64 percent to be exact, support legalizing abortion, which made the Supreme Court's overturning Roe v. Wade all the more bitter a pill to swallow. A new study by the Public Religion Research Institute looked at levels of support at the state level and found that 57 percent of Georgians think abortion should be legal in all or most cases. Currently, abortion in Georgia is banned after six weeks, before most people even know they are pregnant, with exceptions for rape, incest, or to save the pregnant person's life.
Clamping down on abortions would also cause far more harm than good. A study published in November by researchers at the University of Colorado Boulder found that if Georgia bans abortion, maternal mortality will increase 29 percent. Georgia already has the second-highest rate of maternal mortality in the United States, which has the highest rate of maternal mortality among developed nations, according to the World Population Review.
Classifying abortion as a homicide would significantly deter people from seeking the procedure, even if they need it, and could put their health at risk.
Unfortunately, Georgia is not alone in seeking to criminalize people who get abortions. Republican lawmakers in Kentucky, where 50 percent of residents support legalizing abortion, and Alabama, where 55 percent of residents support abortion, have also debated bills that would classify abortion as a homicide in the past week. Representatives in South Carolina, where 50 percent of residents back abortion access, introduced a bill Wednesday that would make abortion punishable by the death penalty.
Not only do these bills go against the will of the people, some lawmakers are actively trying to circumvent what their constituents want. Kentucky was one of five states that voted to protect abortion access during the midterm elections. In Kansas, lawmakers are trying to let cities and counties ban abortion after residents overwhelmingly voted to keep abortion protections in the state constitution.