Ron DeSantis Vows To Defund Diversity Programs at Florida Universities
The new proposal would also require students to take a course on "Western civilization."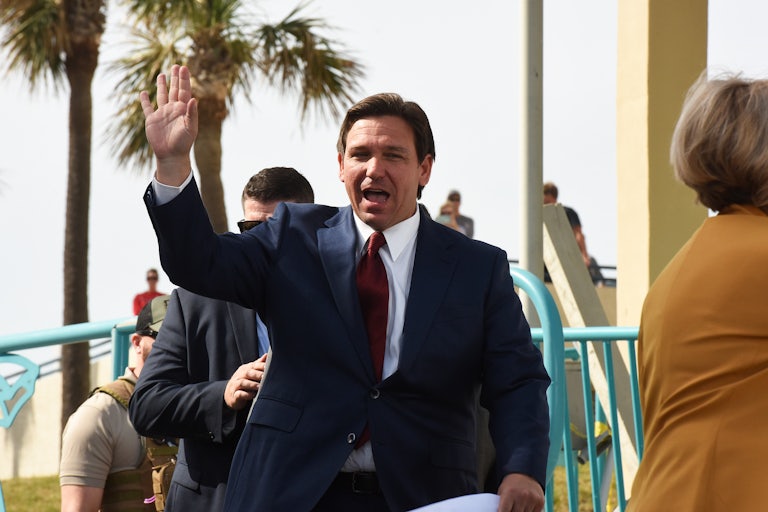 Paul Hennessy/SOPA Images/LightRocket/Getty Images
Florida officials are on a tear to block school programs that they deem too "woke." Governor Ron DeSantis announced Tuesday he plans to defund diversity, equity, and inclusion programs on state college campuses, as public school teachers are hiding their classroom libraries thanks to a new law.
DeSantis told a press conference he wants to see DEI, which he referred to as "bureaucracies," "wither on the vine."

"These bureaucracies are hostile to academic freedom," he said.
DEI programs are important in helping combat implicit bias and providing support for students or employees who are members of a minority community.
DeSantis's plan would also require students to take core classes on the history and philosophy of Western civilization.
The proposal will go before the state legislature in March. It's part of a larger war the governor is waging against "woke culture." This includes signing a law limiting what professors can teach about race and another that would require tenured faculty to receive performance reviews every five years. If they are not up to standards, which have not been specified yet, they could be let go (defeating the purpose of tenure). DeSantis has also blocked high schools from teaching an A.P. African American studies class.
Meanwhile, also in public schools, teachers in at least two counties have been told to hide their classroom libraries, either by wrapping the bookshelves in paper or by removing the books entirely.
A state law passed last summer mandated that school libraries must offer books that are age-appropriate, pornography-free, and "suited to student needs." The state Department of Education issued guidance earlier this month stating the law applies not only to school-wide libraries but also to teachers' personal classroom collections. Teachers are required to vet all the books in their classrooms—as if they didn't have enough on their hands—and could face up to five years in prison and a $5,000 fine if any books violate the new, opaque rules.
But there is very little guidance on what exactly constitutes appropriate material, and the draconian approach has upset educators and students alike. Michelle Jarrett, the president of a state association that helps school library programs, warned that removing classroom libraries could be detrimental to students as they could fall behind on reading abilities.
Marie Masferrer, a board member of the Florida Association for Media in Education and a school librarian, told The Washington Post that at one school, "the kids began crying and writing letters to the principal, saying, 'Please don't take my books, please don't do this.'"