George Santos Liked Using a Fake Jewish Name on GoFundMe Because "The Jews Will Give More"
Santos used the name "Anthony Zabrovsky" to better scam donors to his fake animal charity, according to his former roommate.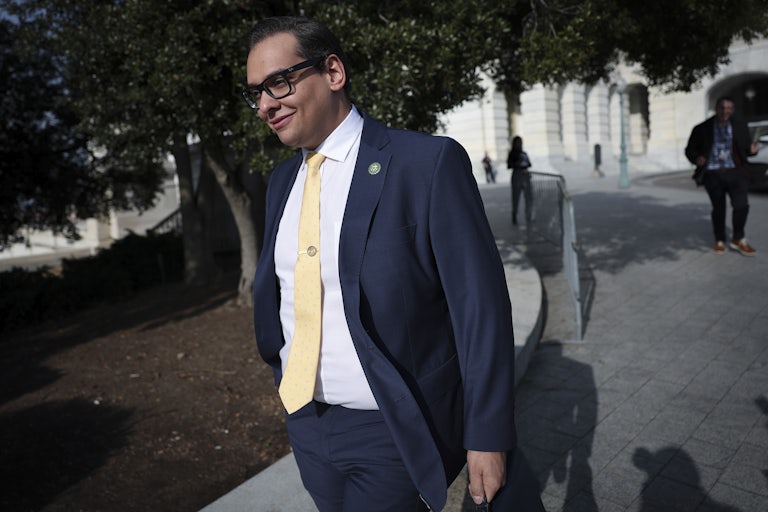 Win McNamee/Getty Images
George Santos used to go by a Jewish last name to better scam donors to his made-up animal charity, according to a former acquaintance.
Gregory Morey-Parker, who said he and the New York representative were roommates for a few months, told CNN's Anderson Cooper Tuesday that Santos had gone by Anthony Zabrovsky at the time.
"He would say, 'Oh, well, the Jews will give more if you're a Jew.' And so that's the name he used for his GoFundMes," Morey-Parker said.
As we all know by now, Santos appears to have fabricated the bulk of his professional résumé. He also seems to have lied about his personal background, including that he is descended from Ukrainian Jews who fled the Holocaust. He has previously said his maternal grandparents changed their name from Zabrovsky to avoid persecution. Records indicate, though, that Santos's grandparents were born in Brazil and that he has no Jewish heritage whatsoever.
Santos also claimed that he ran a nonprofit called Friends of Pets United, which worked on pet rescue (but seemed to hate cats). The IRS couldn't find any records that the animal rescue charity Santos says he founded in 2013 held tax-exempt status, and neither the New York nor New Jersey attorney general's office could find records of the organization being registered as a charity. CNN has found that Santos ran a GoFundMe campaign that no longer exists for a pet charity under the name "Anthony Zabrovsky."