"I'm Just Trying to Get Home": Memphis Police Release Videos of Fatal Beating of Tyre Nichols
The city of Memphis police released four videos of the fatal beating of Tyre Nichols.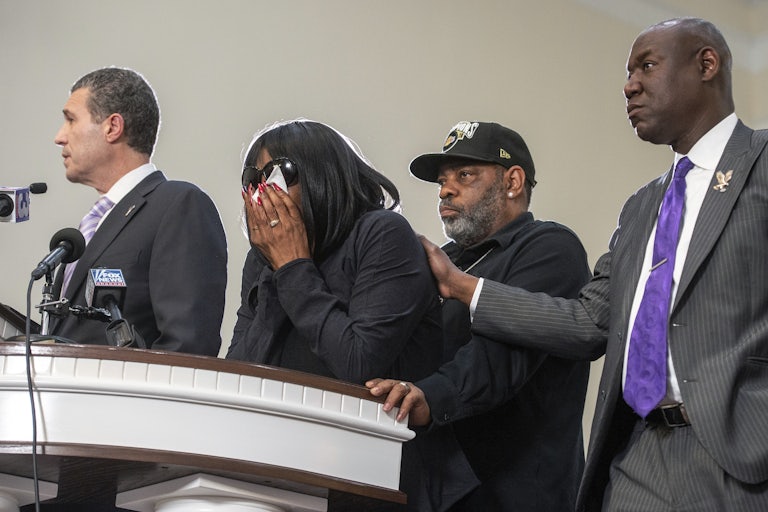 Brandon Dill for The Washington Post/Getty Images
RowVaugn Wells at a press conference at Mount Olive Cathedral CME Church after she viewed footage of the police beating that led to the death of her son Tyre Nichols, in Memphis on January 23. She is flanked by, from left, attorney Antonio Romanucci, husband Rodney Wells, and attorney Ben Crump.
Memphis police released video footage of the fatal beating of Tyre Nichols right around 7 p.m. E.T. Friday night. The videos showed not just the brutal beating death of Nichols, a 29-year-old Black man, but an inexplicable series of events leading up to the beating in which many officers—more than the five who were charged—were on the scene yet no one seemed to be in charge as many minutes passed, and officers stood passively by for around 25 minutes as a dying man lay on the street before them, seemingly doing nothing.
The videos were released in four sections. The first three are from officer body cams, and the last is a Police Department camera positioned on a light pole at the intersection where Nichols was left for dead by police,* just minutes away from home. The fourth video showed the repeated kicks, punches, and baton lashings that took Nichols's life.
The videos will surely raise dozens of questions about the incident and about the MPD officers' handling of it. The first video shows Nichols being stopped, although it isn't clear why he was pulled over. Nichols asks why he was stopped, but there is no apparent answer (large chunks of the video are either silent or unintelligible). Nichols is heard saying, "Damn! I didn't do anything!" and, later, as the cops tell him to get on the ground, "I am on the ground!" Nichols also says, "You guys are trying to do a lot right now. I'm just trying to get home."

Toward the end of the first video, he flees down a street identified in the crosstalk as Ross Street, and reinforcements are called. "I hope they stomp his ass," one cop says of the others giving chase.
In the second video, Nichols is found down the street. He is wrestled to the ground, and pepper spray is administered. Nichols is screaming for his mother. In the third, a large number of officers, eight or 10, are surrounding Nichols, who is lying on the street handcuffed with his back propped up against a patrol car. He is kicked and punched. Many minutes pass. Finally, paramedics arrive, but they do not take him away.
It's the fourth video that shows the brutal violence, and the police leaving Nichols to lie there. There is no sound with this video, unlike the other three. Two officers are holding him down. One administers several fierce kicks, some to the head. Another punches him. Another uses his baton. Within five minutes, Nichols lies on the ground, motionless. For several more minutes, three or four officers surround Nichols, just watching.
On CNN, Dr. Sanjay Gupta expressed shock that no one offered Nichols care and said it was likely given the blows that Nichols's brain was severely damaged and swollen and he needed immediate care. But at least five officers are standing around. Doing nothing. For several minutes.
Bottom line: The violence is shocking. But every bit as shocking: the officers' nonchalance at the death happening in their midst, the death they caused (he died three days later in the hospital). Even cops who shoot an assailant call 911 immediately. The fourth video shows Nichols's body going apparently lifeless and 26 minutes passing before a stretcher arrives. There is no urgency; one officer, who had kicked Nichols, limps down the street, walking it off.

* This post has been updated to clarify the timeline of Nichols's death.