Almost Every Country Signed a Historic Deal To Protect Nature. America Wasn't One of Them.
Republicans helped take America out of the global conversation at the COP15 U.N. Convention on Biological Diversity.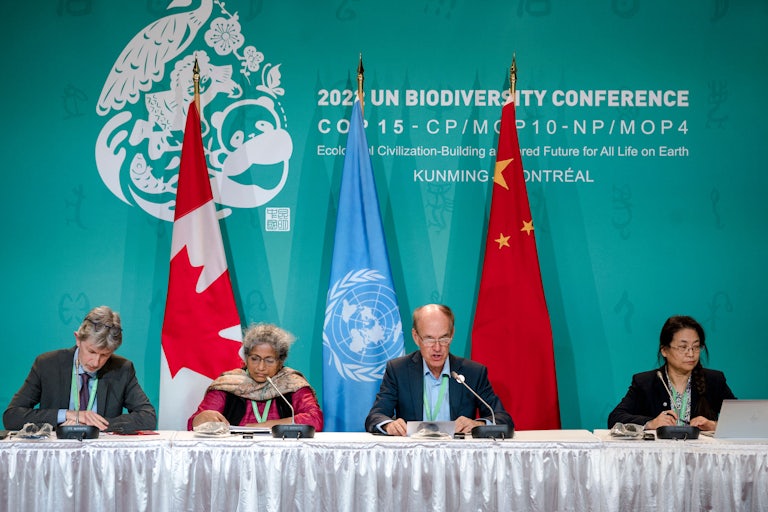 ANDREJ IVANOV/AFP via Getty Images
Marco Lambertini (2nd from right), the director general of WWF International, speaks during a press conference following the release of new COP15 text during the United the Nations Biodiversity Conference (COP15) in Montreal, Quebec, Canada, on December 18, 2022.
On Monday, nearly 200 countries agreed to rein in the ongoing global loss of nature, pledging to protect 30 percent of the planet—land and oceans—by 2030. The goal, known as 30x30, was agreed to at the COP15 U.N. Convention on Biological Diversity (CBD) summit in Montreal, Canada. The United States was one of two countries not signing.
Currently, about 17 percent of land and 8 percent of oceans on the planet have some form of conservation measures in place. The global effort to increase those figures comes three years after a 2019 U.N. report showed 75 percent of land-based environments and 66 percent of marine environments have been "severely altered" by human actions—leading to some 1 million animal and plant species at risk of extinction.

The massive environmental cost translates to an equally large financial cost. Between 1997 and 2011 alone, the world is estimated to have lost up to 31 trillion U.S. dollars per year from biodiversity loss spurred by degrading action and preservatory inaction.
The United States was one of two countries not involved in shaping and signing the agreement. Citing threats to commercial interests and infringements on American and land sovereignty, Republicans have blocked the U.S. joining the CBD since its conception in the 1990s. A two-thirds Senate majority is required for ratification. (The only other country to not sign the agreement was the Holy See.)

President Biden has yet to make a case that Republicans are blocking America's involvement on the global stage as they side with financial interests and make abstract claims for "sovereignty," while America's actual natural landscape deteriorates.

While the U.S. did not sign onto the U.N. agreement, the Biden administration has announced its own 30x30 plan. But with the U.S. refusing to join the 30x30 goal alongside other nations, there is less collaboration and trust shared to actualize the goal.
The worldwide push to stem environmental degradation is only one step towards reversing the damage humans have caused, and replacing those systems with something better. And as has been evident with the Paris Agreement's stalled climate goals, an agreement is just words until proven otherwise.

This article was updated.