Washington Man Arrested for Threatening To Kill Members of Congress in Hundreds of Voicemails
The man allegedly left hundreds of threatening voicemails over the course of two years and continued despite warnings from law enforcement.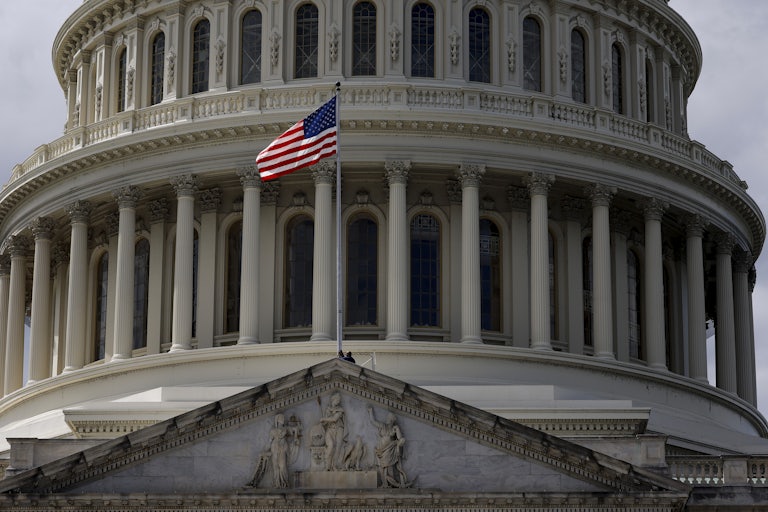 Anna Moneymaker/Getty Images
A 48-year-old Washington state man has been arrested and charged after he allegedly made threats against multiple members of Congress.
Mark Leonetti had allegedly threatened several Senate and House members, leaving hundreds of menacing, racist, antisemitic voicemails over the course of two years. He was charged with seven counts of making interstate threats, the Justice Department announced Wednesday.
Leonetti's relentless threats follow a national trend of heightened threats against members of Congress. According to the United States Capitol Police, cases involving "concerning statements and threats" spiked from 3,939 in 2017 to 9,625 in 2021.
"In this instance, Mr. Leonetti refused to stop his conduct despite contact with law enforcement and mental health personnel," said U.S. Attorney Brown. "We acted now because it has become clear it is the only way to safeguard the community and those serving it."
One of Leonetti's first threatening calls came in March 2021. "Am I here to kill [U.S. Senator 3] because I'm clinical. No, I'm not clinical. If [U.S. Senator 3] is delusional I'm still here to kill him, I'm not clinical," the legal complaint's transcription of one of Leonetti's voicemails read.
The call prompted Capitol Police to investigate and subsequently work with the FBI to probe further. Investigators found that Leonetti had been previously visited by country mental health workers, and that the team stated Leonetti is paranoid schizophrenic.
Investigators made initial contact with Leonetti; there, he allegedly said he would try harming or killing "U.S. Senator 3" "only if justified." In the rest of 2021 alone, Leonetti allegedly left over 400 voicemails to members of Congress of both parties.
As time went on, the voicemails only grew darker. "We're going to barbecue your ass. We're going to peel your ass inside out," a September 2022 voicemail transcript reads. "I'm gonna murder you. It is justified," read another from later that month.
Voicemails Leonetti left in October were even more vile, as he described particularly gruesome manners of inflicting violence on these members, and spewed vicious antisemitic threats—all of which will not be repeated here.
Leonetti left calls as recent as December 5, which again involved "murder" and "kill[ing]."