Barbara Lee Says She'll Run for Senate in 2024
The progressive representative told her colleagues she will run for California's Senate seat in 2024. The news comes one day after Katie Porter announced she'll do the same.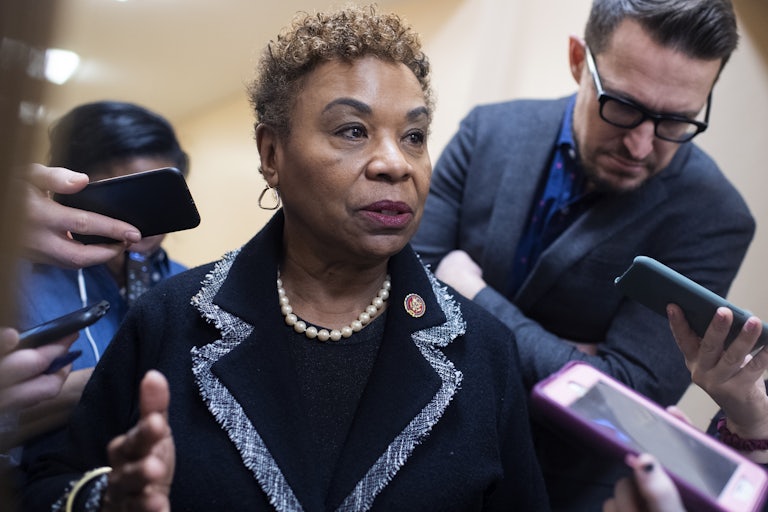 Tom Williams/CQ-Roll Call, Inc/Getty Images
Representative Barbara Lee
Representative Barbara Lee says she'll run for Senate in California in 2024, setting up a sure to be crowded Democratic primary.
During a closed-door Congressional Black Caucus meeting Wednesday, Representative Barbara Lee told her colleagues that she will be running for Senate, Politico reported Wednesday. Though no official announcement has been made, the decision comes one day after her progressive colleague Representative Katie Porter announced her own run for Senator Dianne Feinstein's seat.
Lee, a member of Congress since 1998, has led a storied career in and around politics. As a college student, she helped bring Representative Shirley Chisholm to visit her campus; Lee went on to work for the congresswoman's historic run for president in 1972 as the first Black candidate seeking a major party's nomination. Lee also volunteered for the Black Panther Party's community learning center and worked for Party co-founder Bobby Seale's Oakland mayoral campaign.
Thereafter, Lee worked as a staff member for Representative Ron Dellums, before serving in the state Assembly and Senate. Finally, in 1998, Lee was elected to California's 9th district.
Lee has garnered generally progressive bona fides throughout her time in Congress. She is a former chair of the Congressional Black Caucus and chair emeritus and former co-chair of the Congressional Progressive Caucus, and was a founding member of the Congressional LGBTQ+ Equality Caucus.
Lee's most notable moment came as she was the lone member of Congress to vote against authorizing the use of force following the September 11 attacks. She warned fellow members to be "careful not to embark on an open-ended war with neither an exit strategy nor a focused target."
"It was a blank check," Lee wrote on September 23, 2001. "In granting these overly broad powers, the Congress failed its responsibility to understand the dimensions of its declaration. I could not support such a grant of war-making authority to the president; I believe it would put more innocent lives at risk." Lee's foresight proved prophetic. "We must respond, but the character of that response will determine for us and for our children the world that they will inherit."
With two candidates expressing interest in the Senate seat, Feinstein has remained mum about her intentions. The 89-year-old senator has led a long career, having served in the Senate for 30 years. But in the past year, lawmakers and staffers alike have expressed concerns about Feinstein's mental capacities and whether she can continue serving.
If Lee does indeed run, she will be joining a quickly filling competitive field alongside Porter. Representatives Ro Khanna and Adam Schiff are also rumored to be heavily interested in joining the field. Khanna has said he would take Lee's intentions into account while considering his own decision; members of Schiff's inner circle chided Porter for announcing while California faces a weather disaster (in a way only those in a primary opponent's orbit might).

But based on Lee's likely step in, the race is on—whether Schiff likes it or not.