New College of Florida President Kicked Out, Replaced With DeSantis Ally
The conservative board of trustees, stacked with appointees of Governor Ron DeSantis, voted to oust the president and replace her with an ally of the governor.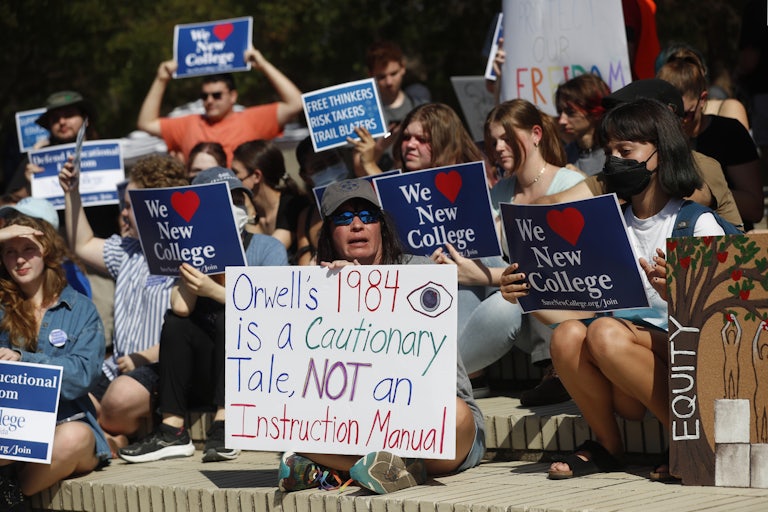 Octavio Jones/Bloomberg via Getty Images
The president of the New College of Florida was forced out by a board of trustees stacked with appointees of Governor Ron DeSantis, who is cracking down on "woke" thought in state schools, and replaced with another DeSantis ally.
The New College is a top-notch liberal arts school, as well as a politically liberal enclave not just in deeply red Florida, but in the county where it is located, too. The college's board of trustees was overhauled in early January when DeSantis appointed six new conservative members.
The 13-member board of trustees met Tuesday night, where they ousted President Patricia Okker to the dismay of the school community.
DeSantis's picks include Christopher Rufo, an anti–critical race theory advocate also known for his anti-LGBTQ rhetoric; Charles Kesler, a senior fellow at a far right think tank; and Matthew Spalding, a government professor at Hillsdale College, a highly conservative private Christian college in Michigan. Both Rufo and DeSantis's chief of staff have said they want to remake New College in the image of Hillsdale.
During the meeting, DeSantis appointee Mark Bauerlein described diversity, equity, and inclusion, or DEI, programs as "McCarthyite." Rufo also criticized DEI and motioned to shutter the Office of Outreach and Inclusive Excellence.
The trustees appointed Richard Corcoran as interim president. Corcoran, the former state education commissioner, is a close DeSantis ally and was described by the Sarasota Herald-Tribune as "an eager participant in the governor's education culture war battles."
Students protested the meeting and have tried to push back on the changes at their school, but it's a struggle in the face of what appears to be an all-out war by DeSantis on the state school system.
The New College board meeting came just hours after DeSantis announced he intends to defund DEI programs on state college campuses. He has also signed a law limiting what professors can teach about race, and another requiring tenured faculty to undergo review every five years.

Public school teachers have been told to hide their classroom libraries or risk five years in jail and a $5,000 fine for having material deemed "inappropriate" for students. DeSantis also banned high schools from teaching an A.P. African American studies class, deeming it "woke indoctrination."