CNN Welcomes Bill Maher, Who Once Used a Racial Slur on Air, to Its Lineup
If CNN wanted to dip its toe into comedy, Bill Maher wasn't the only option.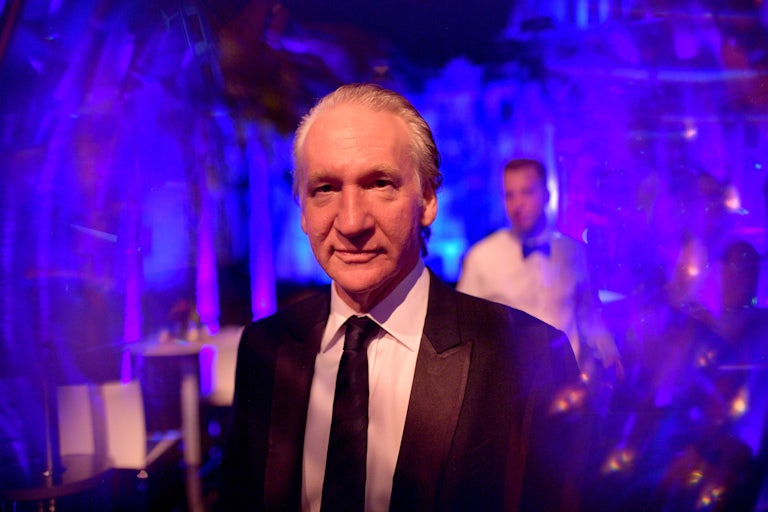 Matt Winkelmeyer/VF20/WireImage
When Chris Licht took over CNN last year, he told employees he sought to make CNN "an organization that exemplifies the best characteristics in journalism," pillaring values like "fearlessly speaking truth to power" and "educating viewers and readers with straightforward facts and insightful commentary." Seeming to forget all of that, CNN will now be hosting Bill Maher's late night HBO segment, Overtime, every Friday night, beginning this week. Falling short of some of these pillars, Maher comes with a spanning history of issues.
In 2017, Senator Ben Sasse appeared on Maher's show, where he invited the host to "come work in the fields with us" in his home state.
"Work in the fields?" Maher replied. "Senator, I'm a house n*****." Sasse and the audience awkwardly laugh (Maher later apologized for using the word).
Maher once questioned where Zayn Malik, the Pakistani-British member of One Direction, was during the Boston bombing and has described Muslims as dangerous and anti-American. He once said, "What if during Black History Month, we all bought lobster with food stamps? What if for Cinco de Mayo we all went swimming in blue jeans?" Maher also hosted alt-right commentator and alleged pedophilic advocate Milo Yiannopoulous.

Maher hosted anti-vaxxer Jay Gordon, giving the "doctor" open and unopposed headway to peddle anti-vaccine talking points. He also praised Republican Governor Ron DeSantis for being a "voracious consumer of the scientific literature" on Covid-19. Maher said DeSantis "protected his most vulnerable population, the elderly, way better than did the governor of New York." As of January 30, Florida's seven-day average of Covid deaths stands at 53.6 deaths; New York's is 32.3.
Maher appeared on Chris Cuomo's show to talk about the need for "an honest history of racism," only to then use right-wing terms to denounce "critical race theory," manufacturing a nonexistent conflict between the two ideas.
To be fair, Maher has hosted people from across the political spectrum for years: from Cornel West and Ann Coulter to Andrew Yang and Barbara Lee. Maher, and his guests, may not fit in one particular ideological box, and some use that as evidence of Maher's independence. After all, though espousing some culturally conservative and simply problematic stances, Maher has also earned favor with different factions of the left. Liberals may support him for his general anti-Trump stances; progressives may find appreciation in his endorsing Medicare for All and marijuana legalization or platforming people like Bernie Sanders and Elizabeth Warren.
But Maher isn't unique; millions of people have complicated and cross-ideological views. And if someone peddles baseless conspiracy or dehumanizes (or gives permission for others to dehumanize) entire groups of people, there's no need to pay them to lead your network's expansion. Even if CNN wanted to expand into comedy, and wanted a charismatic host who can roll with wherever punches may come, it's not as if Maher was their only option.