Who Is Brandon Johnson? More on the Chicago Mayoral Challenger With a History in Organizing
Cook County Commissioner Brandon Johnson says Chicago deserves a progressive mayor "willing to invest in people."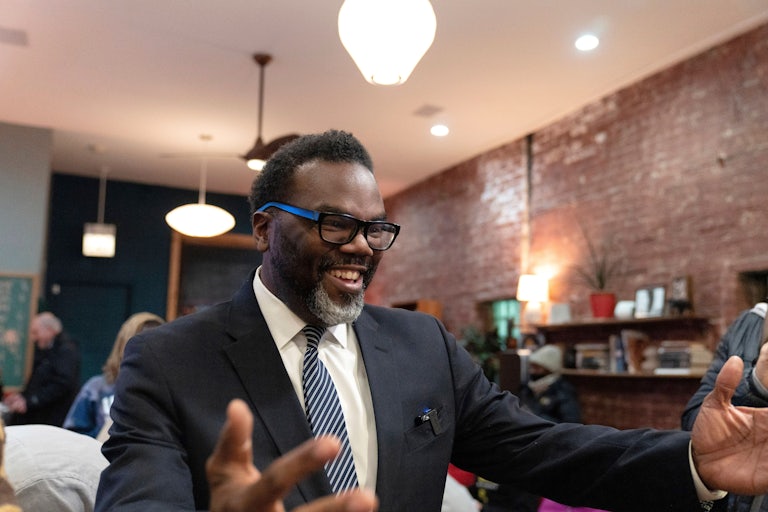 Erin Hooley/AP/Shutterstock
Chicago mayoral candidate Brandon Johnson speaks to supporters during a public listening session at Principle Barbers, in the North Lawndale neighborhood of Chicago.
In the past 34 years,* there have been only three mayors in Chicago: Richard Daley, from 1989 to 2011; Rahm Emanuel, from 2011 to 2019; and Lori Lightfoot since then. Now a field of nine candidates are running to unseat Lightfoot next month and become Chicago's mayor. Cook County Commissioner Brandon Johnson sat down to talk to The New Republic about how he's looking to come out of left field and upset expectations.
Johnson, a teacher and organizer, has emerged among the top candidates in a race that requires the winner to cross a simple majority threshold. If no candidate reaches at least 50 percent in next month's election, which is the likely case, the top two vote-getters will proceed to an April runoff. Johnson, whose candidacy garnered no opinion from more than 70 percent of voters as recently as last month, is already putting up a formidable fight.

Polling averages from the four most recent polls have Representative Jesús "Chuy" Garcia leading the pack at 20.75 percent, conservative Democrat and former Chicago Public Schools CEO Paul Vallas at 18.25 percent, Lightfoot at 15.2 percent, and Johnson at 13.55 percent. Johnson has also been endorsed by SEIU's Local 73 and Chicago Teachers Union and officials like Representatives Delia Ramirez and Jonathan Jackson (son of Reverend Jesse Jackson). Such endorsements led Johnson to outpace every other candidate in fundraising over the final quarter of 2022, much of the money coming from unions.
One of 10 children in a household fathered by a pastor and carpenter, Johnson told TNR his upbringing was "where you learned, right away, how to lean on one another." That lesson guided Johnson's path forward, toward a politics that embraces that spirit.

"Chicago can be better with a progressive mayor who loves people and is willing to invest in people," Johnson said. "The safest cities in America all have something in common: They invest in people."

After obtaining his master's degree in teaching, Johnson began teaching social studies in the Chicago Public Schools system. In 2011, he joined organizing efforts with the Teachers Union, helping organize the 2012 Chicago teachers' strike that earned teachers a 17.6 percent pay rise over four years. The strike also reframed education reform efforts to speak more directly to student concerns: class sizes; funding for music, art, and physical education; paid teacher preparation time; and less standardized test emphasis.
In 2018, Johnson ran against an incumbent to become a Cook County commissioner, member of a board overseeing the second-largest county in the United States. Since serving on the commission, he led the passage of a housing ordinance that took on rental discrimination against people with criminal histories. He also supported the Chicago Public Schools' strike in 2019, appearing at a solidarity rally and writing newspaper opinion letters in support of striking teachers and staff.
Now, in a race where crime and public safety have steered the conversation, the progressive is rejecting the decades-long "tough on crime" stance. "This so-called toughness that politicians or insiders have just been recycling over the past 40 years has failed us—in the most dramatic of ways," Johnson said. He points to Chicago being among the cities with the highest police spending per capita in the country, while schools and mental health facilities shutter. "What's most disturbing, whether it's Lori Lightfoot, whether it's Congressman Garcia who has essentially copied and pasted the same so-called public safety plan of the person he endorsed four years ago, they're using the same stale failed talking points and policies that have not kept our community safe."
Johnson proposes investing more in areas like mental health and housing, but he also wants to fully fund year-round youth employment opportunities and create an Office of Community Safety. He is seeking deeper crime prevention rather than just crime response.
"This is not radical, right? The fact that employment and investment in people is considered a progressive idea, and is not just a humanitarian idea, tells you everything that's wrong with the same old stale politics and policies that continue to make it to debates," Johnson said. "They shouldn't be allowed to debate failed policy. We should just retire any policy that has failed people for the past 40 years."
Johnson is a man buoyed by hope while having plenty of reasons not to. He has taught in a school system where he says even his students wished he taught at a "good school." And he has seen how the coldness of the world can leave someone. "My older brother Leon was my hero. He was very talented, but he had untreated trauma. He died addicted and unhoused. If the city and this country actually provided more support to mental health—if those resources were available for my brother, I do believe he would be allowed today to see his grandchildren."
Yet he's channeled those experiences into his candidacy. "The city of Chicago can be saved by doing what safe American cities do, and that's what I'm gonna do as mayor: invest in people and the services that people rely on and those that actually do the work."
With just over a month to go, the road ahead certainly is not an easy one. But Johnson has already convinced thousands that his vision is worth hoping for.
"I'm grateful that there is so much hope that we can provide the city," Johnson said. "And to transform this city into a place where it's safe for everyone … it's very humbling to be in a moment where this could be a historical moment that people will look to for guidance as other cities look to do the same thing."
* This post originally misstated the number of years in which Chicago has had only three mayors.