Alex Jones and Tucker Carlson Texted Each Other Conspiracy Theories Throughout the Pandemic
The most watched cable news network in America is taking at least some editorial direction from Infowars' Alex Jones.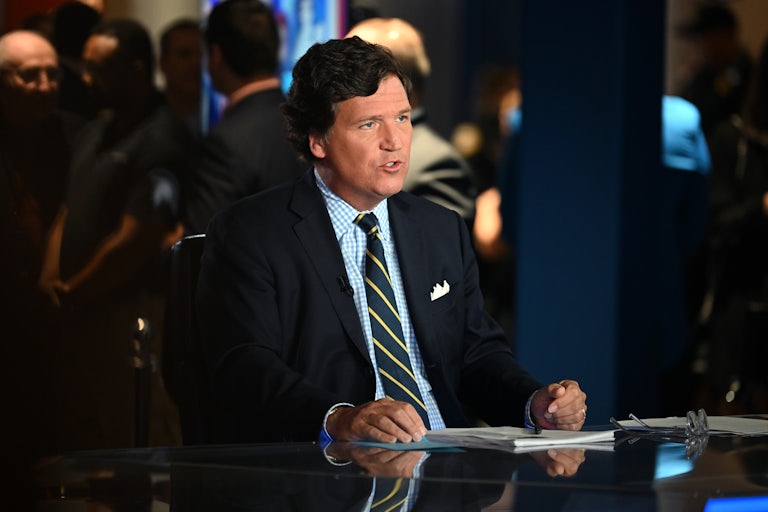 Jason Koerner/Getty Images
Isolating during the pandemic, especially earlier on when we knew so little, led many of us to share vulnerable, open conversations with others. Looking for comfort and inspiration, text messages became a haven for some. Such is the case for a pair of the most influential far-right conspiracy theorists: Infowars' Alex Jones and Fox News's Tucker Carlson.
Text messages between the pair, reported by HuffPost, show the duo swapping Covid-19 conspiracy theories, at least one of which later showed up on Carlson's show. It also reveals that the most watched cable news network in America is taking at least some editorial direction from Jones.
On March 16, 2020, Jones texted Carlson a link to a now-deleted Infowars article. It detailed how Carlson drove to Donald Trump's Mar-a-Lago resort to urge the then president to take Covid seriously. "Fox News Host saves America," the article's subhead proclaimed.

"I tried man," Carlson humbly responded.
After the victory lap, the demonic duo quickly shifted gears by the following month. As their beloved leader chose not to take the pandemic seriously, Jones and Carlson began an ongoing exchange of Covid conspiracy theories.
On April 27, as Trump was lauding the debunked idea of killing Covid by shining a "very powerful light" inside people's bodies, Jones and Carlson were discussing YouTube removing a viral video promoting the same weird claim.
"They're clamping down. We'll be China soon," Carlson said.
On April 28, Jones sent Carlson a link to a viral video of two California doctors downplaying the virus, falsely claiming it was no worse than influenza and that death rates were low enough to reopen businesses. About 2,000 people in America were dying daily at that point.
The video had been taken down for being what the American Academy of Emergency Medicine and the American College of Emergency Physicians called "reckless and untested musings."
"This is our lede tonight," Carlson texted Jones after receiving the video. That evening, the host told his massive audience that the video's removal was just another example of "Big Tech" censorship.
The pattern would continue, though with Jones appearing to text Carlson more enthusiastically than vice versa. In earlier texts, Jones complains that The Daily Caller, a right-wing publication founded by Carlson, wasn't allowing Infowars to feature its content on the Infowars website.
"Fucking crazy. I'm really sorry," Carlson responded simply.
The text messages come after Jones's legal team accidentally sent an entire copy of his cell phone and every text message he sent over the course of two years.
Read more at HuffPost.