Kentucky GOP Club Blares Footage Related to Breonna Taylor's Death to People Innocently Eating Their Dinner
The Republican Women's Club of South Central Kentucky held an event with one of the cops in the raid that killed Breonna Taylor. Diners unaffiliated with the event heard and saw graphic descriptions of the raid as they ate.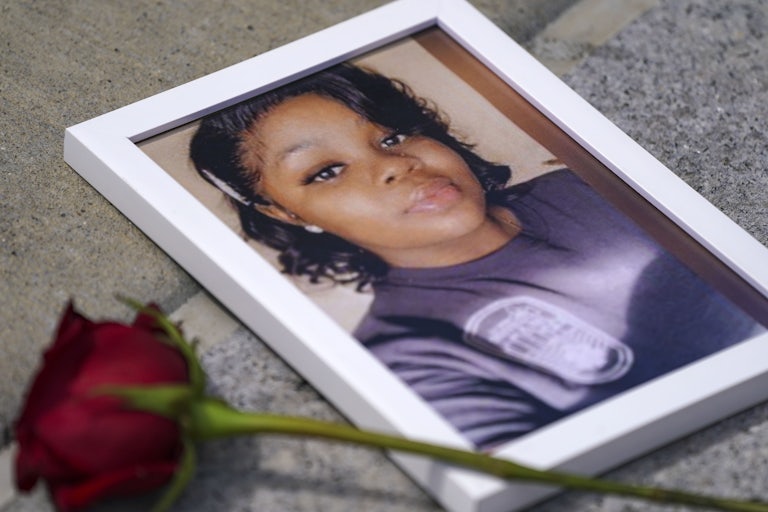 Leigh Vogel/Getty Images for Frontline Action Hub
The Republican Women's Club of South Central Kentucky held an event this week honoring one of the cops in the raid that killed Breonna Taylor.
The event took place on Tuesday at Anna's Greek Restaurant, a well-known local restaurant in Bowling Green, with a dining area and second-floor space where events can be held. There, former Louisville Metro Police Department Sergeant Jonathan Mattingly, one of the officers who conducted the no-knock warrant and raid that killed Taylor in March 2020, reportedly shared photos and blared video footage with gunshot noises.
The restaurant was open to the public at the time of the event. Guests, some of whom had made reservations, were not informed by management about the last-minute event happening upstairs. Guests, including people of color, there for their own dinner plans were then shocked by what appeared to be a bustling event celebrating an officer who was part of the raid that killed a Black woman in her own home.
Cayce Johnson, a guest at the restaurant that night, told The New Republic that the lights dimmed in the middle of their meal. "The woman comes back on and introduces Jonathan Mattingly, and everyone just roared upstairs—applause, cheers, and our mouths just dropped." Sound carried throughout Anna's, a retrofitted old church.
Johnson said Mattingly took the audience "back to March 2020," before going through the presentation with photos and video footage with the sound of gunshots. "One of the members of our group was a war veteran and he has PTSD, so we were just in extreme shock."
Katelyn Jones, another diner, told TNR the event also included a raffle and jokes about Covid-19. She said the event was initially so loud her father couldn't hear anything at the table.
After realizing the event included Mattingly, Johnson and her friends sought out the restaurant owner, Vilson Qehaja. Qehaja responded to the group's concerns by literally shrugging his shoulders, according to video footage. "I have no idea what's happening, so," he said as the group complained about the presentation on Taylor. "I have nothing to do with that, so."

One of Johnson's friends said, "Do you realize who that is? They killed somebody, a cop. He's a cop … I made reservations, I came from Kansas City."
"You're being served, right?" Qehaja responded.
Guests say Qehaja later simply turned up the music.
"He was drinking his coffee and staring at us, raising his eyebrows, kind of intimidating us, like, 'What are you going to do?'" Johnson said. Qehaja's behavior mimicked what event attendees upstairs allegedly were doing, as guests claimed men from the audience glared down from the second-floor balcony at restaurantgoers, seeming to warn them not to disrupt their event.

An estimated 80 people reportedly attended the event.
Since the event, Mattingly has left a glowing review of Anna's—and gotten into fights with people who say his presence disrupted their dinner. He did not explicitly deny reports of gunshot noises during the presentation.
"It is beyond reprehensible to subject anyone, let alone children and customers of African American descent, to such indecent exposure, graphic and upsetting images while they were attempting to enjoy their meal," said the Bowling Green–Warren County Branch of the NAACP in a statement. "Such disturbing occurrences must not be tolerated especially in places of public accommodation. At a minimum, these acts are devoid of humanity and violate the most fundamental principles of human decency."
TNR reached out to the Louisville Metropolitan Police Department. They had no comment.
The event took place despite earlier controversy about Mattingly's presence. He was originally slated to appear alongside Agriculture Commissioner and Kentucky gubernatorial candidate Ryan Quarles at the Bowling Green Country Club. In a post from their now-removed Facebook page, the Republican Women's Club said Mattingly was going to "share what really happened during the raid that killed Breonna Taylor, what he saw, and how the media's narrative has been corrupted and twisted to fit into a false, woke storyline." After the event garnered attention from the media and local political leaders, Quarles and the Bowling Green Country Club both backed out.
Attempts were also made to contact the Republican Women's Club of South Central Kentucky and its officers, to no avail. Regina Webb, a Republican who ran for the state House of Representatives in 2012, claimed ignorance about the event to TNR. Webb, listed by the secretary of state in 2020 as vice president and director of the Republican Women's Club, also said she was not involved in the club.
"A lot of people attending are actually people in positions of power in Bowling Green.… People are hesitant to put their name out there for fear of retribution," Johnson said. "They thought that because they were going to secretly and quietly move the event, there would be no one who knew what it was, and no one to call them out."
"We are calling them out."