House Republicans' Crazy Caucus Responds to Biden's Budget With an Utterly Unserious Proposal
Have fun with this one, Speaker McCarthy!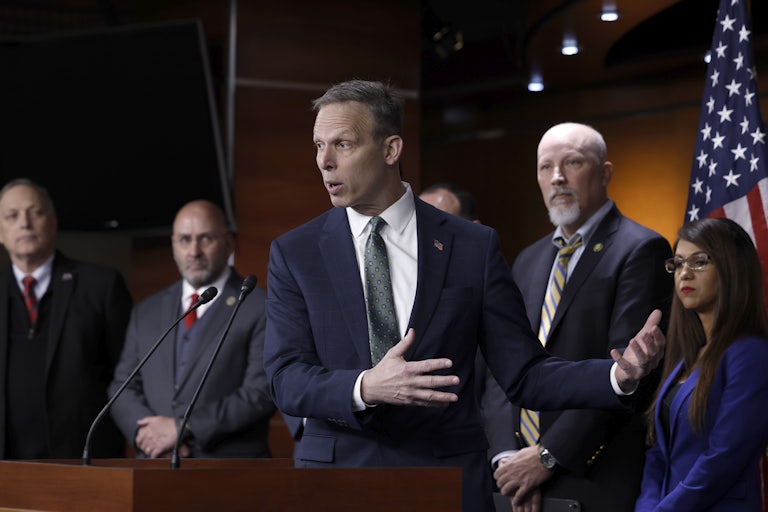 Anna Moneymaker/Getty Images
House Freedom Caucus Chairman Representative Scott Perry at a press conference on March 10
While President Biden's budget proposal calls for expanding services, from childcare and universal pre-kindergarten to Medicare, an extremist group of House Republicans countered with their bargaining terms for agreeing to raise the debt ceiling: Cut, cut, cut.
The House Freedom Caucus released their demands on Friday, calling to slash Biden's plan to relieve over 40 million people from student debt burdens, rescind unspent Covid-19 funds, cut climate change funding and $80 billion for IRS enforcement, and cap future spending for the next decade at 2022 levels.
The radical proposal also calls to restore work requirements on welfare programs and restore nondefense discretionary spending to pre-Covid levels. And it ambiguously calls to end "federal regulations and subsidies" in order to increase domestic energy production.
The debt ceiling is the limit to how much the government can borrow to pay for spending that Congress has already approved. Congress has to raise the ceiling by the summer in order to avoid potentially defaulting, which would cause a massive crisis that could upend the global economy. On Friday, Treasury Secretary Janet Yellen warned the House Ways and Means Committee that such a crisis has never happened before and its occurrence would "trigger an economic and financial catastrophe."
The House Freedom Caucus has outsize influence over the party direction. It forced Kevin McCarthy to concede to an array of demands in exchange for support for his speakership bid. Since then, McCarthy has had to tread somewhat lightly between the ultraright caucus and the rest of his party.
Republicans have been unified in their opposition to a simple raise of the debt ceiling and have demanded that Democrats accept cuts to spending instead, but the party has not come to a consensus around the nature of those cuts.
While McCarthy and most Republicans are happy to cut spending, the House Freedom Caucus's demands may be a bridge too far for some members, politically. Even if McCarthy and other Republicans somehow bless the House Freedom Caucus's proposed cuts, the package would likely be dead on arrival in the Democratic-led Senate and would certainly be vetoed by Biden in any case.
The president, after all, has been adamant that he won't negotiate over the debt ceiling. "I don't know [if] there's much to negotiate on," he said on Friday.