Senators Introduce Bipartisan Bill to Make Railroads Safer After East Palestine Train Derailment
A new bill would go a long way in trying to prevent another disaster like the one in Ohio.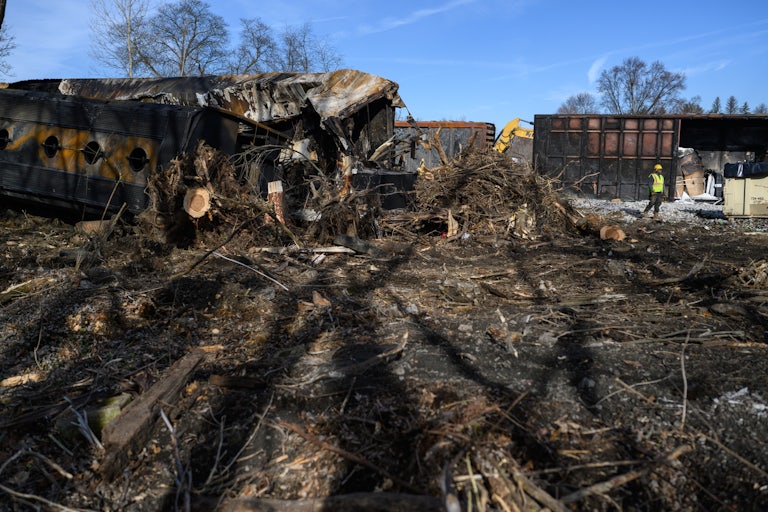 The train derailment in East Palestine, Ohio, on February 14
Don't miss it—Congress might actually be doing something to hold railroads accountable and make workers and the broader public safer.
On Wednesday, a group of bipartisan senators (Sherrod Brown, J.D. Vance, Bob Casey, Marco Rubio, John Fetterman, and Josh Hawley) introduced the "Railway Safety Act of 2023" to address some of the concerns about rail safety that resurfaced after the disastrous Norfolk Southern train derailment in East Palestine, Ohio.
The bill calls for stronger safety standards for all trains carrying hazardous materials and also expands those standards to trains not currently subject to high-hazard flammable train, or HHFT, regulations (like the train in East Palestine).
It also mandates a freight train be operated by at least two-person crews, which rail workers have been demanding for some time, and increases penalties for companies that violate any rail safety standards.

Enforcement for many of the bill's provisions will be key, however, says Railroad Workers United Co-Chair Ross Grooters. "It appears to be a step in the right direction, but we need to pay attention to the details," Grooters told TNR. "Often railroads are reactionary. They tend to do the minimum and create unintended consequences within the law. Ensuring we have strong enforcement and no loopholes is key."

The Senate legislation, similar to a House bill introduced Tuesday, directs rail carriers to proactively communicate with local, state, and tribal emergency response commissions when hazardous materials are being transported.

The bill also calls on the transportation secretary to carry out numerous provisions and enact further regulation. So, to Grooters's point, the execution will still depend on agency will.
Under the legislation, the transportation secretary is responsible for creating new safety standard procedures on an array of items, including how big trains can be and how fast they can go, how frequently trains should be inspected, and to direct audits of the inspection programs themselves.
The bill also directs the transportation secretary to issue new regulations on the equipment used to monitor trains carrying hazardous materials. This measure comes as the National Transportation Safety Board deemed that an overheated wheel bearing was part of what led to the Norfolk Southern train derailing in East Palestine. The bill mandates that trains carrying hazardous materials be scanned by hotbox detectors every 10 miles and that the detectors be equipped to alert rail operators effectively.
The legislation further calls to collect funds from rail operators in order to carry out additional emergency response training. And the bill appropriates $22 million for research and development into detectors and $5 million for developing safer tank cars.
There are some differences between the Senate bill and the separate rail safety bill introduced in the House, including on what gets classified as a high-hazard flammable train.
Of note is that the bill also did not include any specific guidance or directive surrounding the revival of the Obama-era rule to mandate updated braking systems at least for trains carrying hazardous materials.
Nevertheless, it is unmistakably a great step forward for Congress to be pushing the slate of measures, particularly in a bipartisan manner. The words are now officially on paper, and anyone looking to oppose or water down the bill should be put on notice—especially since there's still much more to be done.