Congrats to Joe Biden and the Democrats for Helping Republicans Kill D.C.'s Crime Law
The Senate voted to repeal the D.C. law, as Democrats caved to a dishonest fearmongering campaign led by conservatives.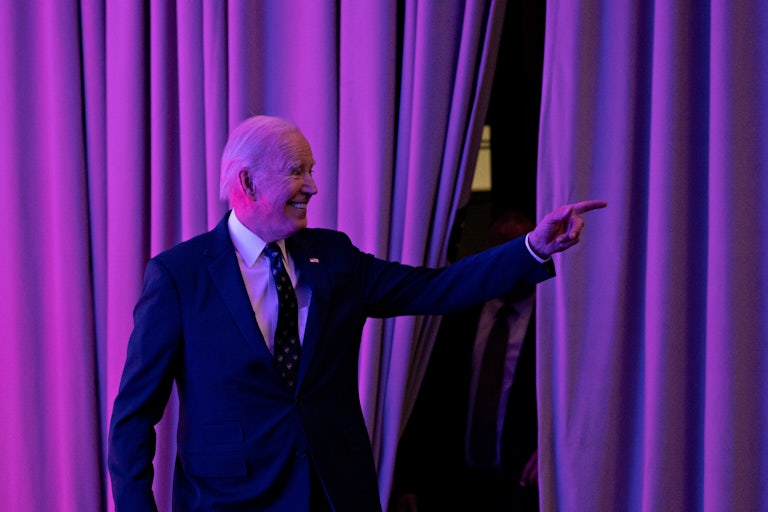 Andrew Harrer/Bloomberg/Getty Images
On Wednesday, the Senate voted 81–14 to overturn D.C.'s criminal code reforms, subverting months of work that residents and officials invested to update codes that haven't been dusted off in over 100 years.
The vote signals the official death of D.C.'s proposed criminal code updates. Local officials will have to continue using archaic codes until the D.C. City Council can pass new ones that again have to be approved by the federal government.
The House voted last month to block both the updated criminal codes and another bill that would have extended voting rights to noncitizens in D.C. (An estimated 7 percent of D.C. residents are noncitizens of some form.) It did so with the help of 31 Democrats, including Elissa Slotkin, the party's heir-apparent Senate candidate in Michigan, and lone anti-abortion Democrat Henry Cuellar.

Inspired by the moderate wing of his party, President Joe Biden announced last week his own support for joining the right-wing campaign against D.C.'s duly owed autonomy. Though Biden called "denial of self-governance" in Washington, D.C., "an affront to the democratic values on which our Nation was founded," in April 2021, he announced last week that "if the Senate votes to overturn what D.C. Council did–I'll sign it."

He cited only one specific change, "lowering penalties for carjackings," as a cause for concern. In reality, the bill updated an obsolete and unusual 40-year maximum sentence for carjacking to a more realistic 24-year maximum (still higher than most actual sentences).
With the Senate now joining the House in the rejection, and Biden presumably set to finish the task, the rule of a government overseeing 700,000 residents has been wholly subverted by the federal government. Not only is this a complete federal takeover of local government rule (one that seldom happens in any other community in America), but it also was one spurred forward by a dishonest fearmongering campaign propelled by conservatives.
The bill was approved unanimously by the D.C. City Council. It then voted 12–1 to override Mayor Muriel Bowser's veto of it (she had said she approved 95 percent of the bill anyhow). And the reforms did not haphazardly reduce criminal sentences. The council tasked with updating the code (staffed by legal experts, including representatives from the D.C. attorney general's and U.S. attorney's offices) used data from a decade's worth of cases to align the code with the kinds of penalties judges were already sentencing people to.
The bill also updated the court's ability to stack offenses like building blocks. Though maximum sentences for various stand-alone offenses might've gone down (often because the existing ones were outdatedly high), the new codes defined many more offenses, and degrees of them, enabling courts to put together more proportional and logical sentences. For instance, in cases related to carjackings that also have a violent component, court sentences would more accurately reflect each characteristic of the crime.
The D.C. City Council was simply dusting off old codes and making them more efficient for courts. The updates didn't even embody the larger shift of resources from overpolicing to community investment actually needed to start making the public safer. But moderate Democrats joined the right-wing charade anyway. Predictably, Democrats are getting no reward from Republicans for playing along; in her remarks today advocating to overturn D.C.'s reforms, Senator Joni Ernst displayed a sign that read "Life in Biden's America," depicting a crime scene with a chalk outline, yellow tape and all. Moderate Democrats, led by Biden, betrayed their supposed principles just to embarrassingly lose the politics of it all too.