House Members Waste Our Time and Money To Pass Bill "Denouncing the Horrors of Socialism"
A whopping 328 House members, including 109 Democrats, voted for the bill.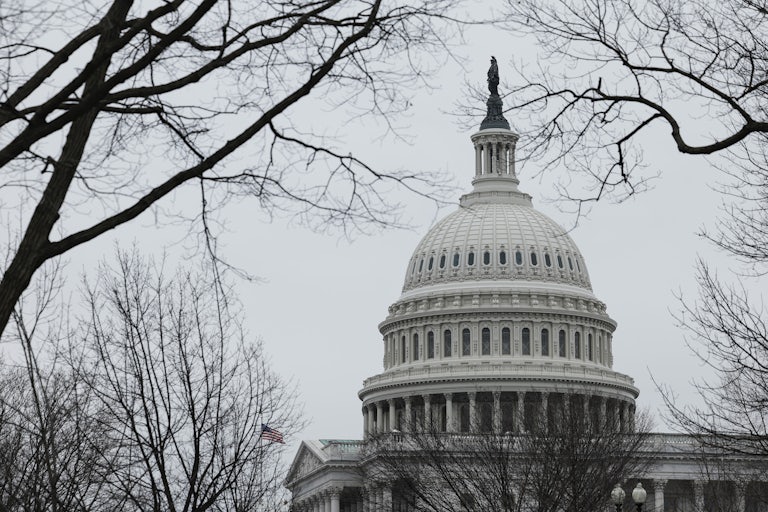 Anna Moneymaker/Getty Images
In a country ailed by the callousness of capitalism—as people are subject to a continual stream of mass shootings, ruthless police brutality, and having to resort to GoFundMe in order to pay for rent and hospital bills—members of Congress spent their workday, instead, denouncing socialism.
After Republican members on Thursday shamelessly voted to oust Representative Ilhan Omar from the House Foreign Affairs Committee, 109 Democrats joined them to pass a bill "denouncing the horrors of socialism."
In total, 328* House members—75 percent of the chamber—participated in the farce taking place in the people's House. The 109 Democrats, many led by the New Democrat Coalition, decided that, instead of deriding the resolution as a meaningless exercise, they'd participate in the Republican-led charade.
With an argumentative flourish that literally boiled down to "socialism bad, capitalism good," conservative members of the House spent our taxpayer dollars to lazily bemoan socialism and glorify America, a country filled with people who deserve much better. The so-called "greatest country on earth" does not even rank in the top 25 nations in terms of economic freedom. No wonder, given that over 100 million people in the country are burdened with restrictive medical debt.
"Socialism, like the devil, does not appear with horns and a pitchfork. He masquerades as an angel of light with promises of humans flourishing, all failed, all broken. Socialism isn't empty words, it isn't a speech, it's a series of actions that rob people of their freedom and concentrate power in the hands of a few in their central government," House Budget Chairman Jodey Arrington warned. He spoke as if capitalism, in all the glory he and his colleagues threw upon it, does not in fact offer false promises and does not concentrate power in the hands of the few.
Arrington went on to attack a government program that hasn't even happened. "There's a whole of government assault for all the world to see on an industry: American energy," he lamented. "And it's being replaced with this Green New Deal—hundreds of billions of dollars in subsidies, tax credits, grants," Arrington continued, horrified at the idea of government subsidies for energy production, as if fossil fuels don't receive billions of dollars in American subsidies every year.
"I believe our singular mission in this chamber, in this nation's capital, is to fight for our country by preserving and protecting freedom for the next generation of Americans," he finished. But freedom can't come from empty promises of human flourishing.
Freedom, as The New Republic's Michael Tomasky describes, entails "the freedom of people to reach their fullest human potential, pursue happiness, and lead lives of dignity and stability." People can't do that while they face bankruptcy while trying to go to school, or even the hospital; they can't feel happy or fulfilled if their kids are constantly in fear of being shot at school, or by the police.

And if capitalism can't even guarantee those basic freedoms, lawmakers have no business wasting their time glorifying it, or denouncing other visions for how a world can work.
* This post has been updated with the correct vote count.