GOP Proceeds on Shameless Campaign To Oust Ilhan Omar From Foreign Affairs Committee
The Republican-controlled House is preparing for a final vote to remove the Minnesota congresswoman from the committee over her past criticism of Israel.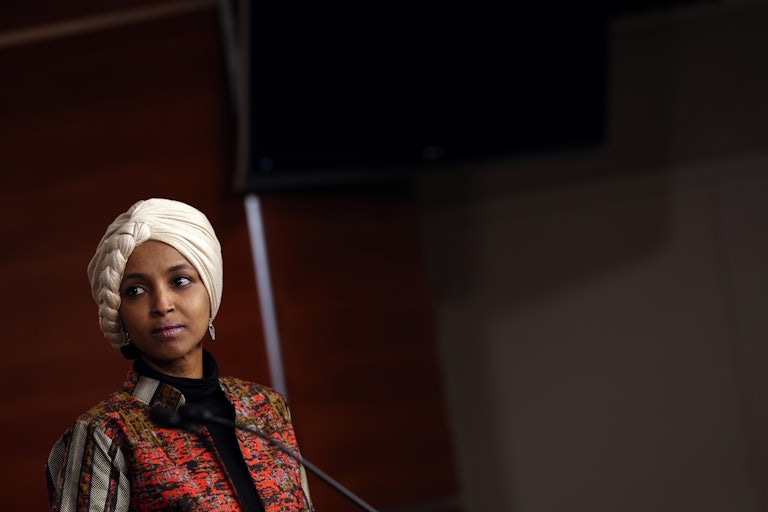 Kevin Dietsch/Getty Images
House Republicans' shameless campaign against Representative Ilhan Omar continues after the House on Wednesday voted along party lines, 218–209, to advance a resolution on removing the Minnesota congresswoman from the House Foreign Affairs Committee.
The House will have a final vote on Thursday that will determine whether Omar is ejected from the committee she has dutifully served on since she entered Congress—and so far, it looks like Republicans will have enough votes to make it happen.
Republicans have gone after Omar for past comments she has made about Israel, accusing her of antisemitism. Meanwhile, the House speaker also sought vengeance against Representatives Adam Schiff and Eric Swalwell, two members prominent during Trump's impeachment hearings, by denying them seats on the intelligence committee.

The ejection of the three representatives comes as a payback mission against the Democrats, who removed Representatives Marjorie Taylor Greene and Paul Gosar from committees for inflammatory comments and online posts encouraging violence against other members of Congress.
There were some initial GOP holdouts, including Representatives Nancy Mace, Victoria Spartz, and Ken Buck. All voted in favor of advancing the resolution to boot Omar on Wednesday.
"This is about vengeance. This is about spite. This is about politics," Representative James McGovern, the top Democrat on the House Rules Committee, told the Associated Press on Tuesday.
Ultimately, Republicans are not getting "payback," as that would imply some level of equal give and take. Democrats voted to punish members notorious for inciting violence and hate; Republicans have approved of McCarthy's removal of two members who dared criticize their king president, and are now voting to remove a third who has openly apologized for her past comments.

"It's motivated by the fact that many of these members don't believe a Muslim, a refugee, an African should even be in Congress, let alone have the opportunity to serve on the Foreign Affairs Committee," Omar said on Sunday on CNN.
No less farcical is this vote because of all the rank antisemitism Republicans have allowed to fester, if not promoted themselves, in recent years. Greene, whom McCarthy said he would "never leave" and "always take care of," has spread theories about "Zionist supremacists" engineering Muslim immigration to Europe, and about Jewish space lasers setting forests on fire in California. Donald Trump, many Republicans' favorite president—or at least someone they can barely ever say a bad word about—recently wined and dined with antisemites Nick Fuentes and Ye.
And if that wasn't enough, the Republicans found a way to make this vote even more of a joke. In a country where millions of people struggle to find affordable health care, housing, or even education—ailments born from relentless capitalism—Republicans attached the resolution to another denouncing "the horrors of socialism."