House Republicans Brazenly Oust Ilhan Omar From Foreign Affairs Committee
"This debate today is about who gets to be an American. What opinions do we get to have, do we have to have, to be counted as Americans?"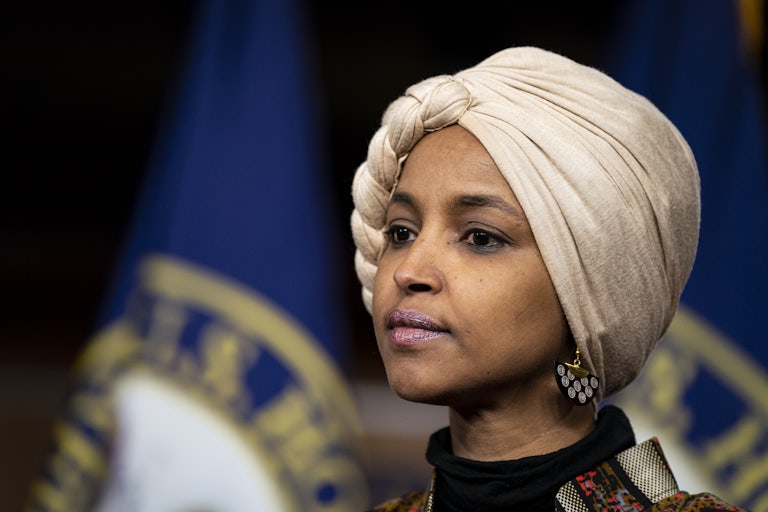 Al Drago/Bloomberg/Getty Images
House Republicans have succeeded in their shameless campaign to eject Representative Ilhan Omar from the House Foreign Affairs Committee—one she has served on since joining Congress. The House voted 218–211 on Thursday, approving a resolution to remove Omar on a standard the Republicans don't hold themselves even remotely accountable to.

Republicans have gone after Omar for past comments she has made about Israel, accusing her of antisemitism. Omar has apologized for all such comments, on numerous occasions.

In her own remarks on Thursday, Omar laid out exactly what the "debate" was about.

"This debate today is about who gets to be an American. What opinions do we get to have, do we have to have, to be counted as Americans?" Omar said. "There is this idea that you are suspect if you are an immigrant, or if you are from certain parts of the world or a certain skin tone or a Muslim. It is no accident that members of the Republican Party accused the first Black president, Barack Obama, of being a secret Muslim.
"Well, I am Muslim, I am an immigrant, and interestingly from Africa. Is anyone surprised that I am being targeted? Is anyone surprised that I am somehow deemed unworthy to speak about American foreign policy? Or that they see me as a powerful voice that needs to be silenced? Frankly, it is expected. Because when you push power, power pushes back.
"I am an American. An American who was sent here by her constituents to represent them in Congress."
Meanwhile, Republicans themselves have tolerated, if not actively promoted, reprehensible antisemitic claims from within their own ranks.
Representative Marjorie Taylor Greene, whom McCarthy said he would "never leave" and "always take care of," has spread theories about "Zionist supremacists" engineering Muslim immigration to Europe and about Jewish space lasers setting forests on fire in California. Donald Trump, many Republicans' favorite president—or at least someone they can barely ever say a bad word about—recently wined and dined with antisemites Nick Fuentes and Ye.
The vote comes after House Speaker Kevin McCarthy also reaped "vengeance" against Representatives Adam Schiff and Eric Swalwell, two members prominent during Trump's impeachment hearings, by denying them seats on the intelligence committee.
Republicans sought to eject the three representatives as some sort of payback against the Democrats, who removed Representatives Greene and Paul Gosar from committees for inflammatory comments and online posts encouraging violence against other members of Congress.
To be clear, this is not actually "payback." Such a term implies equal offense. When Democrats removed Greene and Gosar from their respective committees, it was done a month after an insurrection on the Capitol that both members played roles in inciting. Republicans approved of the removal of two members who simply dared to criticize Trump, and have now voted to remove a third who has repeatedly apologized for her past, and non-inciteful, comments.
The Republicans' unembarrassed witch hunt against Omar, one of the only members of Congress who actively uses her platform to speak truth against foreign despotism everywhere, says it all about the GOP. The party has no interest in actually holding human rights violators to account, certainly has no actual moral integrity, and has a vested commitment to attacking the most marginalized among us—even, and especially, if they happen to be their own colleagues.