Minnesota Becomes First State To Legally Guarantee Abortion Rights Since the Fall of Roe
Minnesota's PRO Act codifies the "fundamental right" to reproductive health care, including abortion.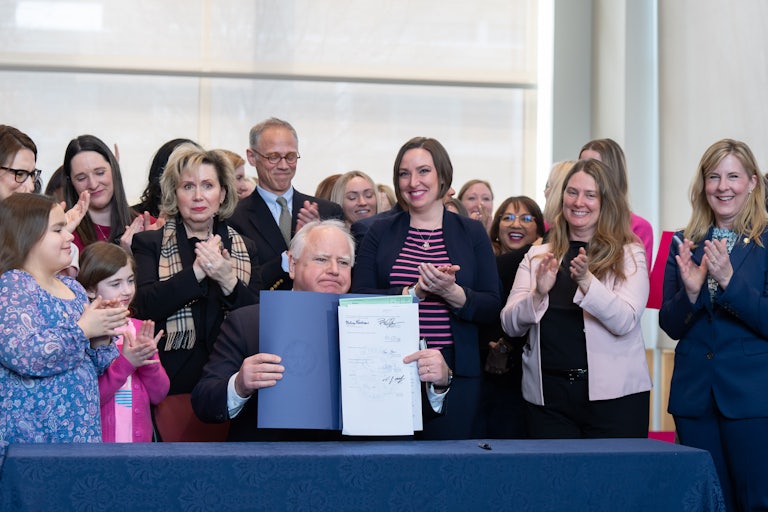 Glen Stubbe/Star Tribune/Getty Images
Surrounded by DFL legislators, Governor Tim Walz signs a bill to add a fundamental right to abortion access into state law on January 31.
One day after the Republican National Committee directed Republicans to "go on offense" against abortion rights, Minnesota Governor Tim Walz signed a bill codifying abortion rights as a guaranteed right to Minnesotans. The legislation will shield residents from any looming Republican attacks, even those that come from the courts.
The Protect Reproductive Options, or PRO, Act codifies protections to reproductive health care, including abortion, birth control, sterilization, and family planning and fertility services. The act, just a page long, guarantees that "every individual has a fundamental right to make autonomous decisions about the individual's own reproductive health."
The new law comes as Minnesota Democrats now lead all three chambers of the government, as they maintained the state House and governorship, and took control of the state Senate in November. In a midterm election partially defined by backlash against the overturning of Roe v. Wade, the new narrow majority poetically codified abortion rights into state statutes.
Abortion rights were already protected in Minnesota after a 1995 Supreme Court decision deemed that the right to an abortion was protected by the state constitution's right to privacy; the PRO Act further enshrines this right and serves to shield it from any potential future court decisions.

In the wake of the overturning of Roe, Minnesota is among 17 states (and D.C.) that have laws protecting the right to an abortion. In New York, which already has protections, lawmakers passed an amendment that would enshrine abortion rights into the state constitution; voters will have the final say as they vote on the amendment through a ballot initiative in 2024.