"It's Bullshit": Republican Lawmakers Bash Tucker Carlson's Version of January 6
Even major Republicans want nothing to do with the way Tucker is spinning the attack on the Capitol.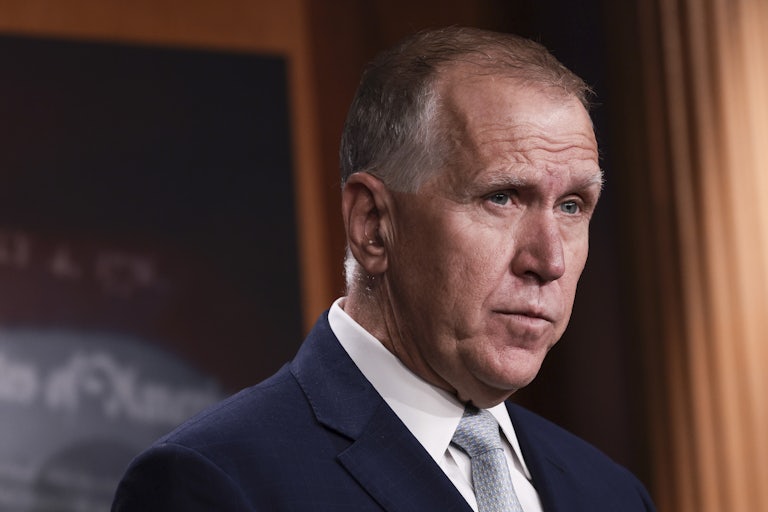 Anna Moneymaker/Getty Images
Senator Thom Tillis
After Tucker Carlson's first clumsy attempt at his new series: Why the January 6 Riot Was Actually Just Diners, Drive-Ins and Dives: D.C., scores of Republicans have come out criticizing Carlson for running the segment, and Fox for hosting it.
The Monday-night segment came after House Speaker Kevin McCarthy gifted Fox host Tucker Carlson exclusive access to 41,000 hours of surveillance footage from the January 6 attack on the Capitol.
In the special, Carlson attempted to square a circle that led to him calling the invaders "protesters" but also just "orderly and meek sightseers." He insisted they were not "insurrectionists," but also chided skeptics for not understanding the invaders being "angry" in the face of a "grave betrayal." But, Carlson assured, they also "believe in the system."
It was so bad even Republicans have been unafraid to repudiate the display—if not on actual moral grounds, perhaps simply because Carlson did a bad job packaging something they wish he had done better. After all, as The Independent's Eric Michael Garcia points out, none of the senators (other than Mitt Romney) voted to convict Donald Trump on an impeachment charge for inciting the insurrection. Either way, Republicans seem to be betting on it being better not to be on Carlson's side this time.
Senate Majority Leader Mitch McConnell took issue, saying Tuesday, "Clearly, the chief of the Capitol Police, in my view, correctly describes what most of us witnessed firsthand on January 6." McConnell was referencing the comments of Officer Tom Manger, who criticized the "opinion program" for airing "commentary that was filled with offensive and misleading conclusions about the January 6 attack."

"It was a mistake in my view for Fox to depict this in a way that's completely at variance with what our chief law enforcement official at the Capitol thinks," McConnell finished, criticizing the network currently under legal fire for knowingly delivering conspiracy and lies more than news.
While Senator Thom Tillis called it "bullshit," other Republican senators followed suit.
"To somehow put that in the same category as a permitted peaceful protest is just a lie," said Kevin Cramer. "The best thing to do is to give it to every source at the same time and let everybody go through it and play it in its entirety," he continued, when asked about McCarthy choosing to give Carlson exclusive access. Cramer also said that by giving to "all sources equally," McCarthy could have avoided giving sole access to "one who is particularly good at conservative entertainment" (perhaps an admission of how much lies and conspiracy seem to entertain Carlson's viewers).
Mitt Romney said it's "really sad to see Tucker Carlson go off the rails like that," calling Carlson part of the "range of shock jocks that are disappointing America and feeding falsehoods."
"You can't hide the truth by selectively picking a few minutes out of tapes and saying this is what went on. It's so absurd. It's nonsense," Romney continued. "It's a very dangerous thing to do, to suggest that attacking the Capitol of the United States is in any way acceptable and it's anything other than a serious crime, against democracy and against our country," Romney said. "Trying to normalize that behavior is dangerous and disgusting."
Others, including Senators Mike Rounds, Lindsey Graham, and Chuck Grassley lobbed similar criticisms at Carlson and Fox.
Of course, let us not forget the still stubborn warriors, gripping on to Carlson's coattails till their fingers turn blue.

"I've seen enough. Release all J6 political prisoners now," proclaimed Representative Mike Collins on Twitter.
"In conclusion, God bless our troops.… Thank you, Tucker Carlson," Representative Joe Wilson, famous for screaming, "You lie!" during President Obama's State of the Union, finished in House remarks Tuesday.