A Populist Democrat Announces Challenge to Josh Hawley on January 6
Lucas Kunce wants to take on the Missouri Republican who incited rioters on January 6 (and then ran away), and he's got a powerful new campaign ad.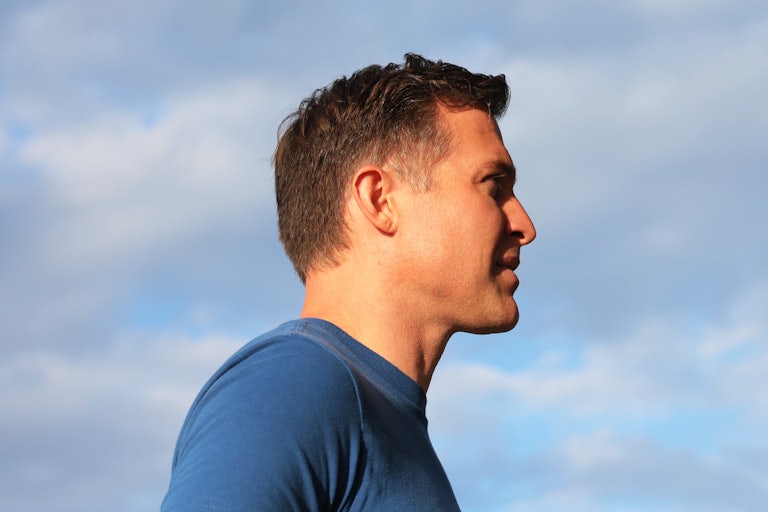 Michael M. Santiago/Getty Images
On January 6, 2021, Senator Josh Hawley was caught on camera running from the same incursion he helped cause. Two years later, as Hawley has continued running from culpability for his role in the attack on the Capitol, he now faces his own democratic challenge. Friday morning—January 6, 2023—populist Democratic candidate Lucas Kunce announced his bid to unseat Hawley.

In his announcement, Kunce took Hawley to task for much more than inciting January 6. Hawley was sent to a "fancy prep school" by his "banker daddy," while Kunce's family relied on their neighbors "to survive bankruptcy and medical bills." Hawley joined an elite corporate law firm after graduation, while Kunce joined the Marines. Hawley supported anti-labor "right-to-work" laws, while Kunce posits himself as a committed anti-monopolist. Hawley had initially voted "no" on a bill to ease health care access for veterans exposed to burn pits; Kunce, who had been exposed to burn pits himself, rallied the cause for the bill.
Kunce told The New Republic that the hardships he faced are a large part of why he's involved in politics. "When my little sister was born and had an open heart surgery, my family went bankrupt. We made it because the people in that neighborhood came by our house, brought us more tuna casseroles than we could eat."
Kunce first ran for office in 2022, vying to fill Republican Roy Blunt's vacant seat. In a crowded Democratic primary, Kunce lost to late-entrant and Anheuser-Busch heiress Trudy Busch Valentine, who then went on to lose the general election to Republican Eric Schmitt by 13.5 points. The primary still displayed Kunce's formidability. Valentine, whose assets were worth as much as $214.7 million, largely self-funded her own $3.4 million campaign. Meanwhile, Kunce fundraised $4.6 million, more than half of which came from donations smaller than $200.

Kunce's candidacy offers Democrats of all stripes the opportunity to rally behind someone who could truly give Hawley a run for his money (no pun intended). Missouri went for Trump by 15 points in 2020, but Hawley only beat Claire McCaskill by about six points in 2018. Kunce's résumé and unhesitating will to expose Hawley as the faux-populist he is—and connect him to everything wrong with America—might be enough to make this race a contest.
"Generally, everyday people do the right things. You see that on ballot measures, and neighbors helping each other out," Kunce said, referring to the success of statewide initiatives to legalize marijuana, reject right-to-work laws, increase the minimum wage, and expand Medicaid. His goal, Kunce said, is to give power back to, and trust, everyday people. "That's the exact opposite of Josh Hawley—this guy's all about power for himself. We're launching on January 6 because it's a great example of what a fraud he is. When he thought it was gonna bring him power, he's raising his fist, he's riling everybody up, and then the second shit gets real and hits the fan, he's running for the exits."

What has Kunce been doing while preparing for his Senate run? "I've been rereading Lord of the Rings," he said, reminiscing of his mother taking him to the library as a kid for free entertainment. "Kinda nerdy, but hey, I play Magic: The Gathering, no shame." He's also been listening to his country favorites: Willie Nelson, Waylon Jennings, Merle Haggard. "And for TV, I did just watch Wednesday. I thought it was really good."
This post has been updated.