Eleanor Holmes Norton Has Some Words for Joe Biden and the Democratic Party on D.C.'s Crime Bill
The Washington, D.C., delegate to Congress has had enough.
Jemal Countess/Getty Images for SEIU
Washington, D.C., Delegate Eleanor Holmes Norton had some choice words for Joe Biden and her fellow Democrats Wednesday, hours before the Senate was set to vote on a motion to block changes to the city's criminal code.
Republicans have led a successful fearmongering campaign against the overhaul of D.C.'s criminal code, which would provide badly needed updates to local legislation. Many Democrats have said they will vote alongside Republicans, and Biden said he won't veto their efforts, denying the national capital the right to self-governance.
"Shame on him!" Norton said of Biden at a protest against the Republican disapproval resolution. "You either support D.C. home rule or you don't. There are no exceptions, and there is no middle ground."
About 200 people braved the cold to gather outside Union Station, just blocks away from the Capitol building. They beat bucket drums and danced to gogo music, both classic and historic D.C. sounds.
"What is happening in Congress is undemocratic," Norton charged. "None of the 435 voting members of Congress were elected by D.C. residents; none of them are accountable to D.C. residents. Yet if they vote in favor of the disapproval resolution … they will choose to govern D.C. without its consent."
She also warned that if the bill passes and Biden signs it, the win could "embolden Republicans to interfere in D.C.'s local affairs."
"Just let 'em try!" she challenged.
Nearly 700,000 people live in the nation's capital, most of them Black or brown. They do not have a voting member of Congress, and the federal government has the right to override policy decisions made by the D.C. City Council. If the disapproval measure passes, it will be the first time Congress has used that right in 30 years.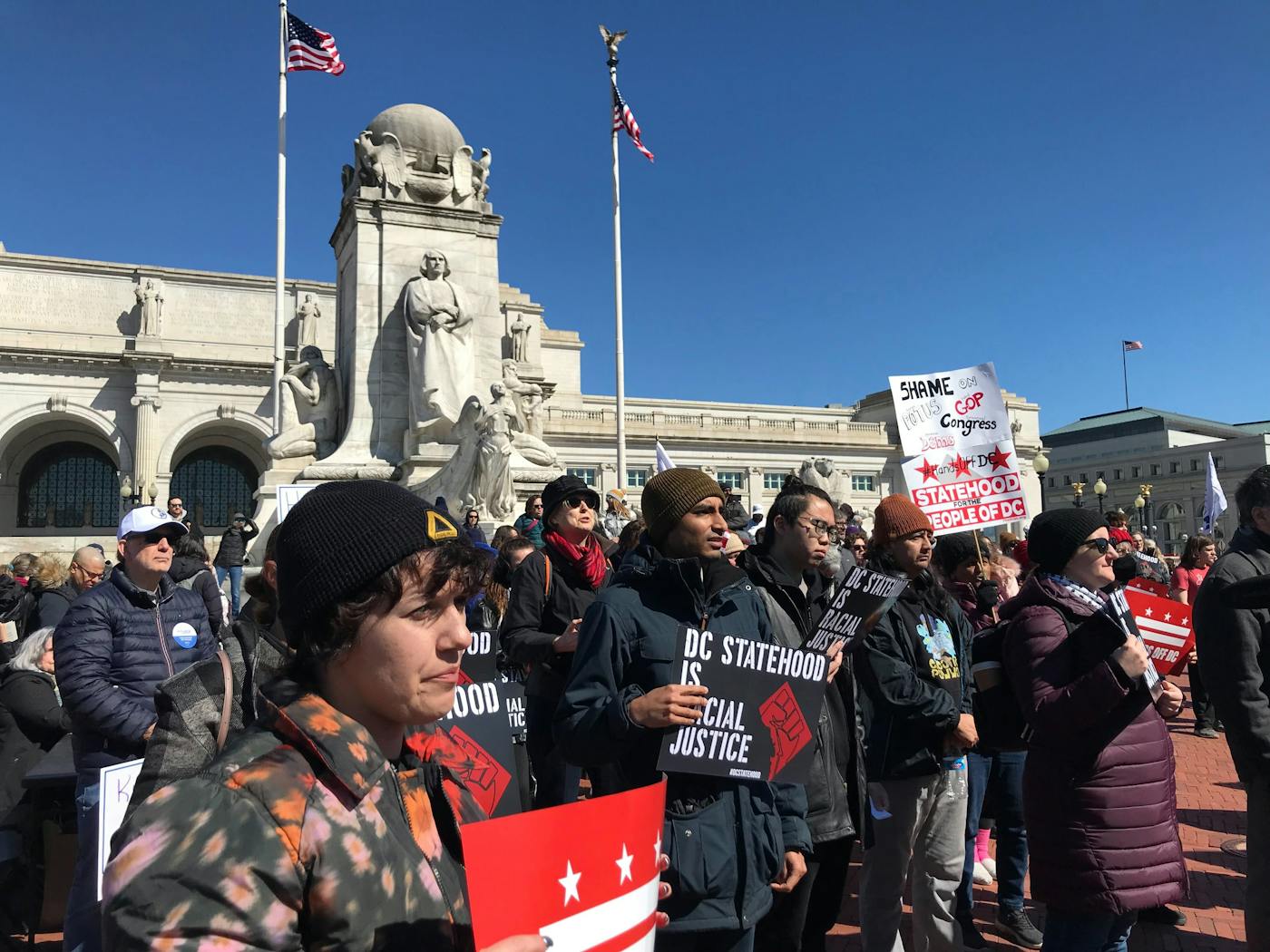 Biden has come under particular fire because he has been a vocal supporter of D.C.'s right to self-governance in the past. His announcement last week that he would not veto the disapproval measure if it came to his desk was seen as a massive betrayal.
Other protesters were equally frustrated with Biden and Congress. "Our autonomy is under attack," Fari Gahmina Tumpe, 58, a community organizer, told The New Republic. "Not only do we deserve the right to have a voting seat at the table, but we also deserve the right to make our own laws and govern ourselves."
Kesh Ladduwahetty, 59, a graphic designer, told TNR she was "just so angry."
"I'm angry because our country talks so big about democracy," Ladduwahetty, who has worked with states advocating for D.C. statehood for a decade, said. "This was a reasonable … law that we passed. It was a thoughtfully done thing, and it was done democratically. And now it's being stamped on for purely political reasons."
"We thought we were making such progress, and this has been such a slap in the face."