Tennessee Governor, Who Wore Drag in High School, Will Sign Bill Banning Drag Shows
Bill Lee says he will sign the anti-drag bill, and was angry when asked about his high school yearbook photo.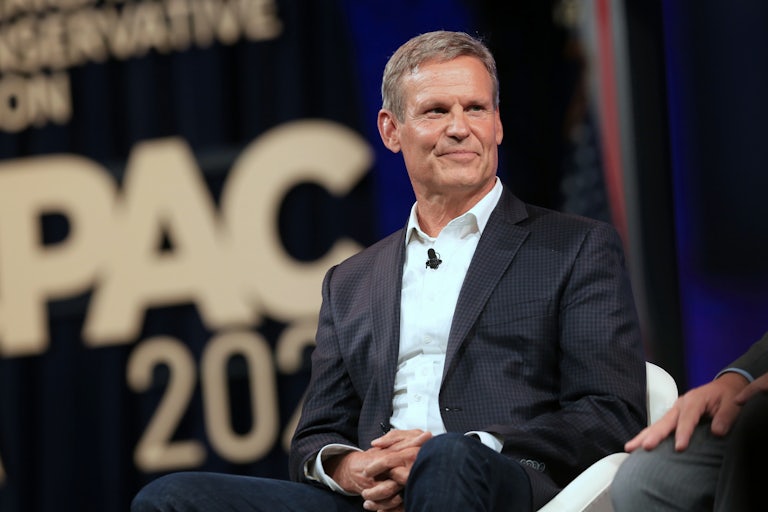 Dylan Hollingsworth/Bloomberg/Getty Images
Tennessee Governor Bill Lee
Tennessee Governor Bill Lee says he plans to sign a law banning drag performances, just days after a photo of him dressed as a woman in high school was shared online, leading many to call him a hypocrite.
Tennessee lawmakers passed the country's first ban on drag shows last week, one of more than 20 similar bills working through state legislatures. The bill, which if signed will go into effect on April 1, bans "male or female impersonators who provide entertainment that appeals to prurient interest," meaning of a sexual nature, either in public or if there is a minor present. The language is vague and makes no distinction between drag performers and transgender people.
Strip clubs, which also provide "entertainment that appeals to prurient interest," are still legal in the state.
Lee told reporters Monday that he plans to sign the drag ban into law, as well as another bill that would prohibit gender-affirming care for minors. A reporter then asked him about the photo, which was posted to Reddit Saturday night.
The photo shows a young man wearing a wig and a cheerleader's uniform. It is captioned "Hard Luck Woman." The original poster said it appears to be Lee. A spokesperson for Lee's high school told NBC that the photo is from the 1977 yearbook and "appears to be Bill Lee," but there's no other information to confirm it.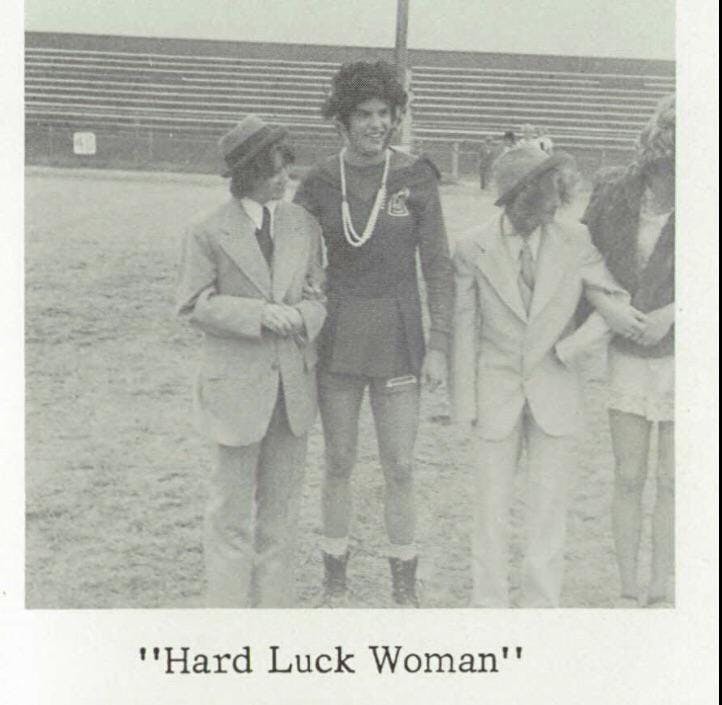 Lee was livid when asked about the picture. "What a ridiculous, ridiculous question that is. Conflating something like that to sexualized entertainment in front of children," he said.
Some drag performers in Tennessee have called Lee's decision to sign the ban into law hypocritical. "He's saying, 'It's OK for straight people to do it, but not the gay community,'" Denise Sadler, who has been a drag performer in Nashville for more than 20 years, told NBC.
Like any performance, drag can be tailored to be appropriate for any audience. Seeing drag performances can actually be beneficial to the young people Lee claims he wants to protect, especially younger LGBTQ people, because it shows them that they are not alone. Unfortunately, Tennessee's bill is part of a major backlash against the increasing visibility of the LGBTQ community. Drag performers have become a particular target for Republicans and right-wing extremist groups, who accuse them of being pedophiles.
"Discriminating against drag performances based on the content of their expression is a direct contradiction of a fundamental principle of our democracy: our First Amendment right to express ourselves on and off the stage," the ACLU of Tennessee said, the day the drag ban passed. "So, let's call this what it is—a malicious attempt to remove LGBTQ people from public life."