Paul Ryan Says He'll Skip the 2024 RNC if Trump Is the Nominee: "We're Going to Lose With Him"
The former House speaker endorsed Donald Trump in 2016.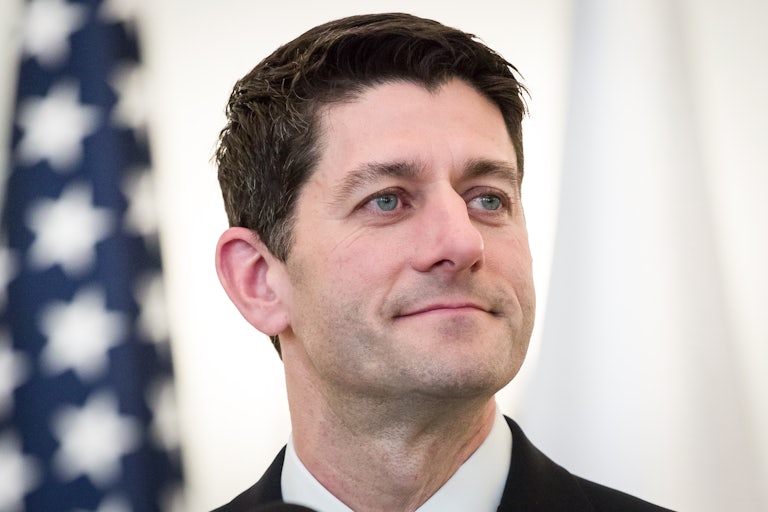 Mateusz Wlodarczyk/NurPhoto/Getty Images
Former House Speaker Paul Ryan said he won't attend the Republican National Convention if Donald Trump is the presidential nominee, a lackluster and pretty on-brand rebuke.
Speaking to a local Milwaukee news station Sunday, Ryan said that even though the 2024 convention will be held in his home state of Wisconsin, his attendance "depends on who the nominee is."
"I'll be here if it's somebody not named Trump," Ryan said. "I'm not interested in participating" if Trump does become the GOP presidential nominee.
Ryan argued Trump has been bad for the party, noting the former president "cost us the House in '18, he lost the White House in '20, he cost us the Senate in '20, he cost us the Senate again in 2022, and he cost us probably a good dozen House seats in 2022."
It's not entirely clear, though, what Ryan thinks his tepid protest will accomplish. It's been a while since he had any real political influence. He was Mitt Romney's running mate in 2012 and then served as House speaker for four years, leaving behind a chaotic legacy.
Ryan repeatedly criticized Trump's actions during the 2016 presidential campaign but always stopped just short of actually taking a stand against him. He ultimately endorsed Trump in June that year.
In the two years he served as speaker under Trump, Ryan took advantage of Republican control of the White House and Congress to help push through his own agenda. Since leaving office, having gotten what he wanted, he has become more outspoken against Trump, previously calling him a "proven loser."

But Ryan has stayed true to his lukewarm brand of criticism. As a result of his unwillingness to stand up to Trump, Ryan briefly landed on Wikipedia's list of invertebrates in 2017.
Trump hit back at Ryan on Truth Social, also taking the opportunity to plug his lie that he won the 2020 election. "Paul Ryan is a loser, Mitt Romney could have won without him. I won twice, did much better the second time, and was 233 Wins out of 253 Races in the Midterms. Paul Ryan is destroying Fox, and couldn't get elected dogcatcher in the Republican Party!" he said.