Senator Dianne Feinstein Will Not Run for Reelection in 2024
The 89-year-old senator from California announced she will not run again in 2024, opening up the race to a field of potential Democratic candidates.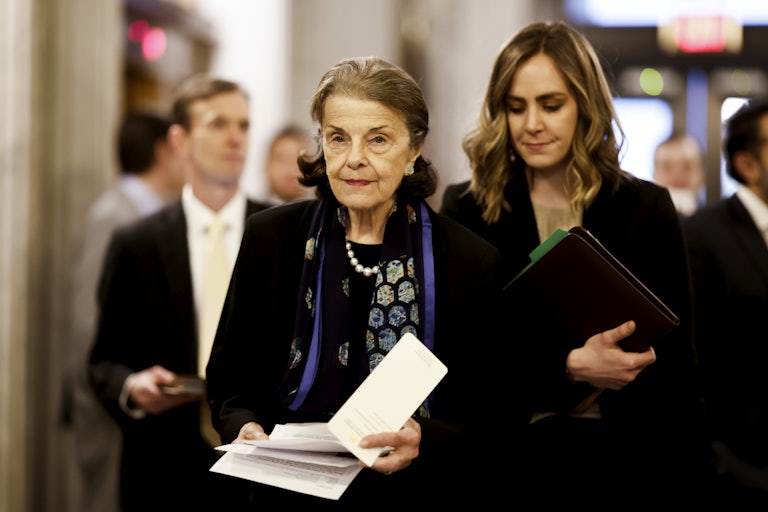 Anna Moneymaker/Getty Images
Dianne Feinstein, California's longest-serving senator, is retiring. The 89-year-old congressional veteran will serve the remainder of her term.
"I am announcing today I will not run for reelection in 2024 but intend to accomplish as much for California as I can through the end of next year when my term ends," Feinstein said in a statement on Tuesday.
Curiously, it's not actually clear whether Feinstein was aware the statement was released, or she just forgot it was happening. Reporter Matt Laslo asked Feinstein about the retirement, and she seemed to have forgotten, or, in a generous interpretation, misspoke:

Having served in the Senate for 30 years, Feinstein was the first female Jewish senator elected to Congress and then joined Barbara Boxer, also Jewish, in being the first female senatorial duo to represent a state at the same time.

At her best, Feinstein authored the 1994 federal assault weapons ban and chaired the Senate committee tasked with investigating and releasing a report on the CIA's tortuous interrogation practices. At her worst, she could be seen chiding young children advocating for the Green New Deal, condescendingly complaining about them asking her to deliver a livable future. "You didn't vote for me," she said.
While Feinstein had filed early Federal Election Commission paperwork indicating she would indeed seek reelection in 2024, any momentum seemed to stall. In the past year, lawmakers and staffers alike have expressed concerns about the oldest sitting U.S. senator's mental capacities and whether she could continue serving.
Amid the speculation surrounding the California senator's future plans, other younger and well-known Democrats were raring to show their eagerness to vie for Feinstein's seat. Representatives Adam Schiff and Katie Porter have already announced their candidacies; Representative Barbara Lee has said she will be running for Senate as well. Representative Ro Khanna has also indicated an interest in the seat, though he has said he would take Lee's intentions into account.

This post has been updated.