"SHOOT DOWN THE BALLOON!": Republicans Lose Their Minds Over Reported Chinese Spy Balloon
Defense officials say the balloon does not pose a military or physical threat, and shooting it down could injure civilians.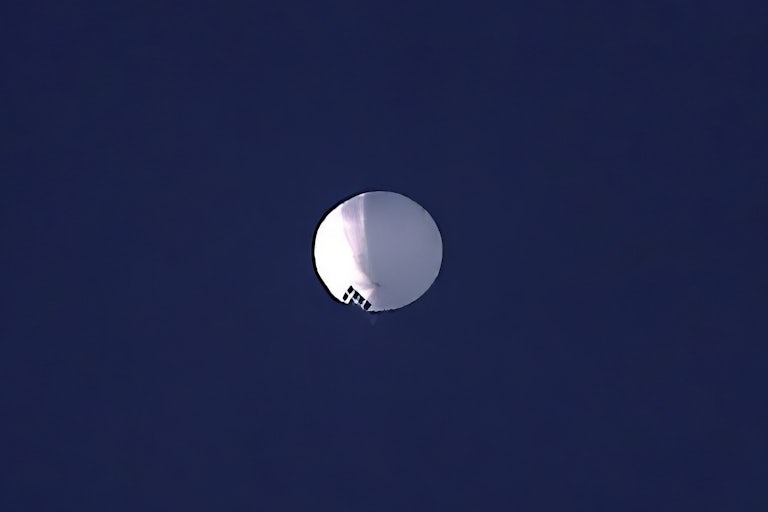 Larry Mayer/The Billings Gazette/AP Photo
A high-altitude balloon floats over Billings, Montana, on Wednesday, February 1. The U.S. is tracking a suspected Chinese surveillance balloon that has been spotted over U.S. airspace for a couple days. The Pentagon would not confirm that the balloon in the photo is the surveillance balloon.
Republicans are lashing out at President Joe Biden, urging him to shoot down what is believed to be a Chinese spy balloon that has been spotted in U.S. airspace, a move that would be dangerous for both civilians and diplomacy.
A large white balloon was spotted over Montana earlier this week, just days before Secretary of State Antony Blinken was supposed to make his first visit to Beijing. Pentagon officials identified the balloon as a Chinese surveillance tool and said it had flown over one of the three U.S. nuclear missile silo fields located near the Malmstrom Air Force Base. Blinken has now postponed his trip indefinitely even though Chinese officials said Friday that the balloon was for weather research and had simply been blown off course—a claim the U.S. rejected.
Either way, Brigadier General Patrick Ryder, the Pentagon's press secretary, said the balloon is high enough that it will not interfere with commercial air traffic and "does not present a military or physical threat to people on the ground." He noted that there had been similar balloons over the past several years, but the United States has taken steps to make sure they were unable to collect sensitive information. A senior defense official also told the AP that the balloon has "limited" value in providing China with intel that it couldn't collect via other means.
But by the wee hours of Friday, Republicans were already demanding a more drastic approach: shooting the balloon out of the sky. They were led by Donald Trump, who insisted on Truth Social the U.S. should "SHOOT DOWN THE BALLOON!"
House Speaker Kevin McCarthy requested a briefing for the members of Congress cleared to receive classified information, slamming China's "brazen disregard for U.S. sovereignty." Senator Marco Rubio said it was a "mistake" not to shoot the balloon down while it was over a sparsely populated area, while reported Republican presidential hopeful Nikki Haley said that not only should the U.S. shoot down the balloon, it should also cancel Blinken's upcoming trip.

Biden had already considered shooting the balloon down but was strongly advised not to. Defense Secretary Lloyd Austin warned him that doing so would create debris that could injure civilians. Even while the balloon was over low-population areas, it would have created a debris field large enough that people could have been hurt.
Blinken's trip, which had not been publicized much, was supposed to kick off Sunday. The decision to call it off came just hours before the secretary was due to leave and came at an incredibly tense time for U.S.-Chinese relations. Beijing and Washington are locking horns over the diplomatic status of Taiwan, trade relations, and China's human rights record. The U.S. is also frustrated with China's tacit support for both Russia's war on Ukraine and North Korea.
Who knows what also shooting down the balloon could set off?
This post has been updated.