Ohio Senate Passes Bill Loosening Child Labor Protections
The bill is likely to become law, as Republicans control the Ohio Senate, House, and governorship.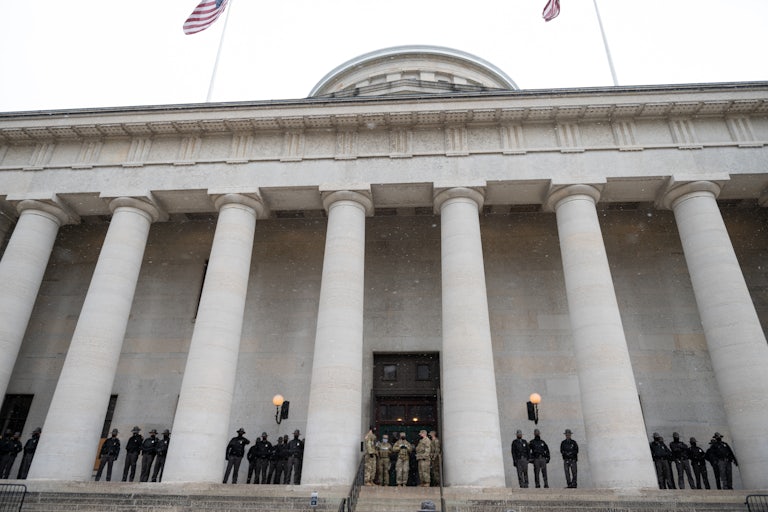 Zach D Roberts/NurPhoto/Getty Images
The Ohio Senate passed a bill Wednesday loosening labor protections for minors, a measure that is likely to become law as Republicans also control the state House and governor's office.
The bill, which passed 25-7 along party lines, would allow 14- and 15-year-olds to work until 9:00 pm any time of the year if they have permission from their legal guardian. Current law prohibits kids under the age of 16 from working between those hours during the school year.
The bill would still limit kids under age 16 from working more than three hours a day on a school day and for more than 18 hours a week during the school year.
Republican backers of the bill argued that the measure would help tackle the workforce shortage seen as a result of the Covid-19 pandemic, as well as teach teenagers work ethic.
But Democrats argued that letting kids work wouldn't address the root of the problem. Senator Kent Smith noted that two million people retired due to the pandemic and have not rejoined the workforce.
Instead, he said, lawmakers should focus on addressing the shortage of child care workers. More than half of the country without access to child care after child care workers quit en masse during the pandemic, according to the Center for American Progress.
"Twenty percent of stay-at-home mothers would enter the workforce if they had child care assistance," Smith said. "That's where we need to be targeting our workforce shortage."
Ohio's bill comes at a time when U.S. labor protections for minors are at a high-stakes crossroads. On Tuesday night, Arkansas Governor Sarah Huckabee Sanders signed a measure that rolls back child labor protections. The new law eliminates one of the state's only means of oversight for child labor.
Sanders's easing of child work protections also comes shortly after states including Iowa, Wisconsin, Minnesota, and New Hampshire introduced bills that would roll back child labor protections.
But all of these measures have come alongside a shocking New York Times investigation into a "shadow work force" of migrant children "across industries in every state," working dangerous jobs that violate existing child labor protections.
The report has outraged labor activists and lawmakers, but apparently that hasn't stopped state-level politicians from making it easier for children to end up in those roles.