Fox News Admitted It Entered an "Existential Crisis" After Trump Lost the 2020 Election
New documents in the Dominion Voting Systems lawsuit shed further light on what Fox News hosts and executives were really thinking as they spread conspiracy theories.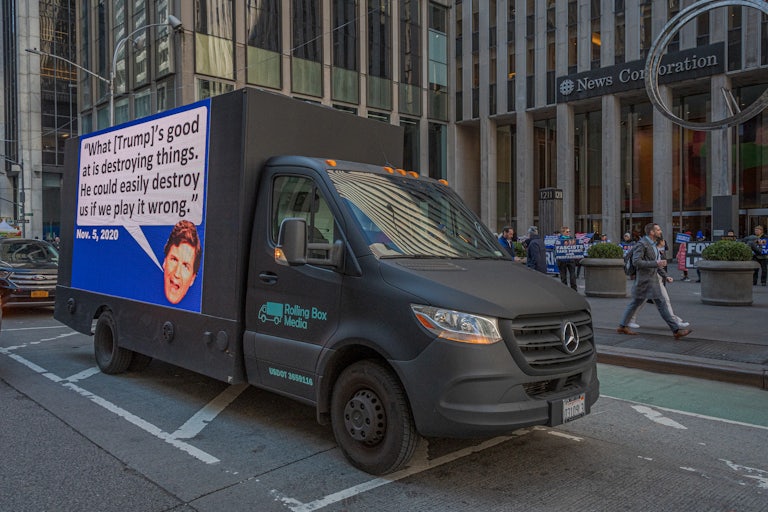 Erik McGregor/LightRocket/Getty Images
A billboard truck seen outside Fox News HQ
Fox News hosts and executives never believed the conspiracy theories about the 2020 election that they were spreading, new documents released in the Dominion Voting Systems lawsuit against the network revealed.
But as one Fox executive put it, the network entered an "existential crisis" after Donald Trump's loss.
Dominion released another batch of documents Tuesday night that gave further proof to the fact that Fox News hosts and owner Rupert Murdoch all knew the election wasn't fraudulent, even as they continued to spread conspiracies on air.
Just two days before January 6, Fox host Tucker Carlson texted someone about Trump's time in office. "We're all pretending we've got a lot to show for it, because admitting what a disaster it's been is too tough to digest," he said. "But come on. There really isn't an upside to Trump."
"We are very, very close to being able to ignore Trump most nights. I truly can't wait," Carlson texted, adding, "I hate him passionately."
Carlson also could "easily destroy" Fox News if they weren't careful. The host, who has previously boasted of his close relationship with Trump, also said that all of the former president's business ventures fail and that Trump was only good at "destroying things."
Murdoch knew the conspiracies Trump spread were lies, as shown by a previously released excerpt of his deposition. But the new documents include more parts of his January deposition, during which he was repeatedly asked about the voting conspiracies being pushed on Fox News.
Murdoch rejected all of the conspiracies, admitting he had "never seen" any effort by Dominion to rig the election against Trump. Still, he spent all of election night hoping Trump would win and allowed his star hosts to go on air and lie when the election didn't turn out how they wanted.
Maria Bartiromo doubled down on the election conspiracies. Text messages she sent to former Trump advisor and white nationalist Steve Bannon revealed she refused to refer to Joe Biden as the president-elect.
"I want to see massive fraud exposed," she said. "I told my team we are not allowed to say pres elect at [all]. Not in scripts or in banners on air."
These latest documents were released the day after Carlson showed a sanitized, cherry-picked version of what happened at the Capitol during the January 6 riot, a move that even some Republican lawmakers condemned. Even after the filings came out, Carlson used his show on Tuesday night to spread his narrative that the January 6 attack wasn't actually that serious.
Fox News has repeatedly argued that its post-2020 election coverage was newsworthy and thus protected by the First Amendment. After Dominion released the documents Tuesday night, Fox accused the company of "distortions and misinformation in their PR campaign to smear Fox News and trample on free speech and freedom of the press. We already know they will say and do anything to try to win this case, but to twist and even misattribute quotes to the highest levels of our company is truly beyond the pale."
Someone has distorted facts and misinformed the public. But it's not Dominion.