Kevin McCarthy Dismisses Potential Trump Indictment As "Political" Witch Hunt
The House speaker's claim comes right after he begged Trump supporters to please not protest if in an indictment really happens.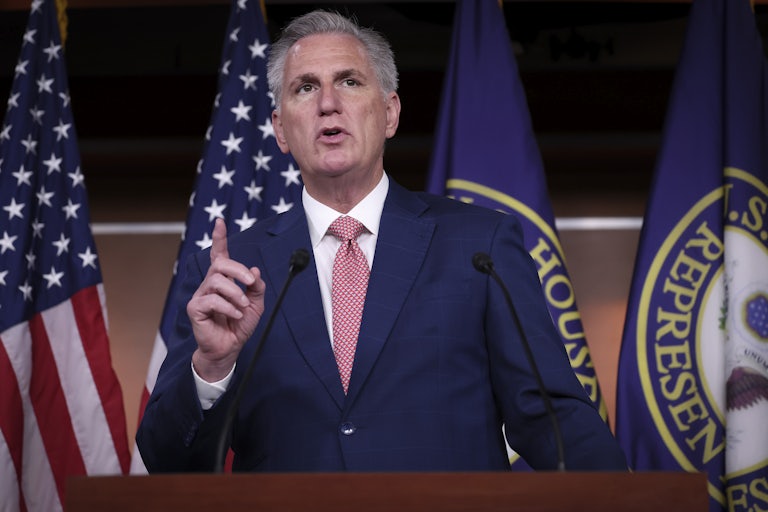 Win McNamee/Getty Images
The investigation into Donald Trump's alleged hush-money payments to Stormy Daniels is all just some frivolous and unjust "political" exercise, but also nobody should protest an indictment if it happens. This is Kevin McCarthy's running line, as the twice-impeached former president and current leading 2024 Republican candidate faces potential arrest.
McCarthy was asked Tuesday by CNN's Manu Raju about allegations that Trump falsified business records to cover up a hush-money payment to Daniels, a porn actress he reportedly had an affair with. Rather than answer the question, McCarthy demurred, talking instead about Hillary Clinton, attacking the Manhattan District Attorney's office handling the case, and interestingly not even disputing the actual core of the allegations themselves.
"This was personal money. This wasn't trying to hide. This was seven years ago, statute of limitations," said McCarthy. "And I think in your heart of hearts you know too that you think this is just political. And I think that's what the rest of the country thinks. And we're kind of tired of that."
The comments came after McCarthy urged people on Monday to not protest the possible indictment. "I don't think people should protest this, no," he said. "I think President Trump, if you talk to him, he doesn't believe in that either."
"PROTEST, TAKE OUR NATION BACK!" Trump had urged on Truth Social on Saturday, in an all-caps rant on George Soros–funded nefariousness and "ILLEGAL LEAKS" from the DA's office. (Trump himself was the one who leaked the coming potential indictment.). Later that same day, Trump posted again, saying that "IT'S TIME!!!" as he warned about the nation being in a "STEEP DECLINE," due to "EVIL & SINISTER PEOPLE" in power. "PROTEST, PROTEST, PROTEST!!!" Trump called to his loyal supporters.
The call to protest naturally raised concerns, given the last time Trump's supporters heeded the call to protest (read: attack the Capitol). But apparently not for McCarthy.
"I think the thing that you may misinterpret when President Trump talks, when someone says that they can protest, he'd probably be referring to my tweet, 'educate people about what's going on,'" McCarthy said on Trump's posts. "He's not talking in a harmful way. And nobody should."
McCarthy purported to be frustrated with questions about Trump and his crimes during a House issues retreat, instead of questions about policy. But framing the Republican Party as one interested in solving material problems is difficult when it's simply the party of "No" when it comes to government action—and hyperfocused on couching its opposition to such action through meaningless terms like "Wokeism." After all, House Republicans have spent more energy trumping up their select subcommittee "on the Weaponization of the Federal Government," than on any of their supposed initiatives to manage good governance.

The line McCarthy is fumbling between can be seen in real-time. McCarthy was asked if Trump is still the leader of the Republican Party. "In the press room, for all of you, he is," he retorted. Curiously, at a different point, McCarthy also referred to Trump as already being a "nominee for president."