Biden Vetoes Anti-ESG Bill, Accomplishing the Barest of Minimums for Climate Change
The president nixes GOP legislation that would have thrown a barrier between investors and their money managers.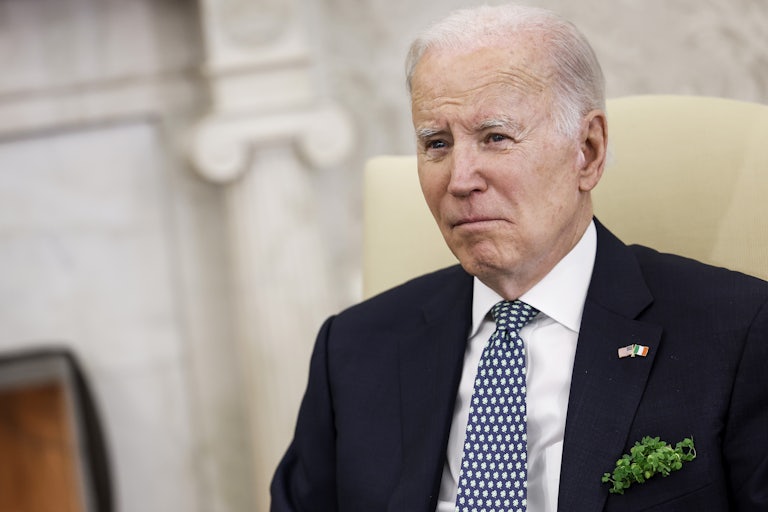 Anna Moneymaker/Getty Images
On Monday, Biden issued his first veto since taking office, shutting down a narrowly passed Republican bill that would have stopped the administration from simply encouraging money managers to consider climate change when making investment decisions for their clients.
Biden's Department of Labor issued a rule toward money managers, stating they could weigh climate change and other environmental, social, and governance, or ESG, factors as they handled retirement investment portfolios. Biden's rule overturned a rule made under Trump that limited the ability of managers to consider such factors; Biden's rule, while encouraging managers to consider ESG, still mandates that managers operate in the best interest of clients. So the rule at its core was just a suggestion—a directive that the government welcomes even the appearance of capital being directed toward more ethical destinations so long as fiduciary obligations to investors are met.

Republicans, buttressed by their cause to include everything that remotely seems related to racial, social, or environmental justice in their broader war on "wokeness," have since attached ESG to their broader onslaught on what they oxymoronically refer to as "woke capitalism." The House voted 216–204 to roll back the rule, and Democrats Joe Manchin and Jon Tester subsequently joined Senate Republicans to pass the adjoined Senate resolution to overturn the rule.

Biden's veto comes on the same day that the United Nations Intergovernmental Panel on Climate Change, or IPCC, released its report issuing a warning about the world being on the final brink of a point of no return in locking in a too-high global temperature increase. One of the myriad solutions the IPCC noted was a redirection of capital from fossil fuels to climate mitigation and environmental protection.

At the same time, it's worth noting that "sustainable investing" is not even close to what's needed to address climate catastrophe. The practice, at best, redirects funds that would've gone to fossil fuel firms and the like, potentially paving the way for consequential innovation that might help green the economy. It is perhaps more realistic to refer to the practice as a marketing tool—a flimsy label companies can use to greenwash their practices. So while the Republican onslaught against ESG could be seen as conservatives not even wanting the bare minimum in taking on climate change, their actions can also be viewed as a means of hyperfixating on a relatively inconsequential solution to climate change in order to distract from the deeper debates over climate mitigation, as well as the tougher policy choices that need to be made.