Florida Republicans Are Too Afraid to Say Whether They Back DeSantis or Trump
"Do you think I want to talk about that? You think I'm crazy?"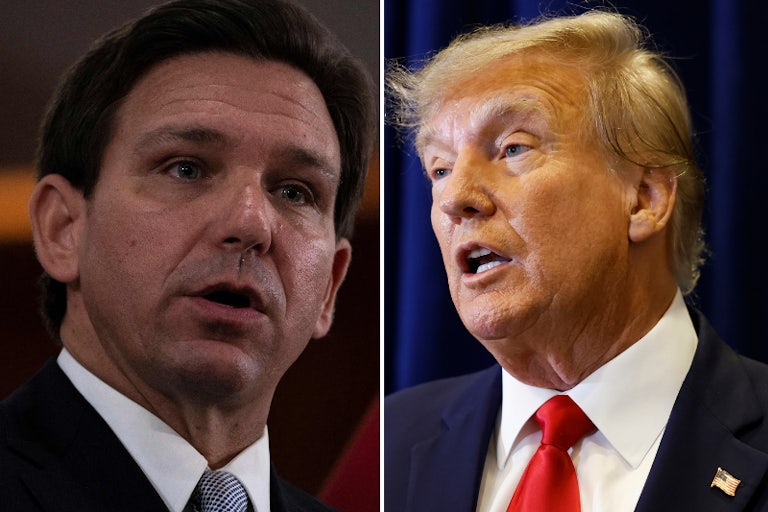 CHENEY ORR/AFP/Getty Images; Anna Moneymaker/Getty Images
The congressional Florida contingent is sure that the next president will be from their home state, but very few are willing to say outright whether they back Donald Trump or Ron DeSantis.
Politico asked all 22 Floridians on the Hill whether they preferred the former president or the current governor. Most preferred to keep their cards close to their chest.
"Oh, wow. You are really trying to get me into a situation here," joked Representative Neal Dunn. Dunn said he had made up his mind but wouldn't share his endorsement because he didn't want to put a target on his back.
Another Florida Republican, speaking anonymously, said, "Do you think I want to talk about that? You think I'm crazy?"
So far, only Trump has announced that he's running for president, although DeSantis is expected to announce a run. The latter recently visited Iowa and commented on Fox News about the war in Ukraine—attempts to showcase his appeal in another state and his foreign policy chops, which governors typically don't worry about.
Both men have demonstrated an ability to hold grudges and to take them out through their politics. Trump in particular is known for turning on a dime against anyone he perceives as an opponent. That includes DeSantis: Trump had backed the governor during his reelection campaign in 2018.
But now that the governor is nipping at his heels, Trump has slammed him as disloyal and nicknamed him "Meatball Ron" and "Ron DeSanctimonious." Trump's influence in the Republican Party is declining, but he's still powerful. The Florida contingent knows better than to alienate him just yet.
DeSantis is less brash than Trump but no less dangerous. The governor has been quietly but steadily cutting back human rights in his state, particularly for women, the LGBTQ community, and people of color. He could easily exact revenge on members of Congress who turn on him, such as by restricting resources for their district.
Only two representatives were open about who they support. Both Matt Gaetz and Anna Paulina Luna backed Trump. Gaetz pointed out that DeSantis has been somewhat closed off and hasn't tried to build relationships with federal lawmakers.
Senator Rick Scott said he typically doesn't endorse anyone during the primary, but he similarly noted that he has a more open relationship with Trump.
Overall, the lawmakers were clear on one thing: "The next president will be from Florida." It doesn't seem like they really care who the nominee is, so long as it's someone who will help them complete their political agenda.