Instead of Fixing an Already Broken Industry, Government Approves Another Rail Merger
The merger of Canadian Pacific and Kansas City Southern comes as East Palestine, Ohio, is still recovering from a disastrous train derailment.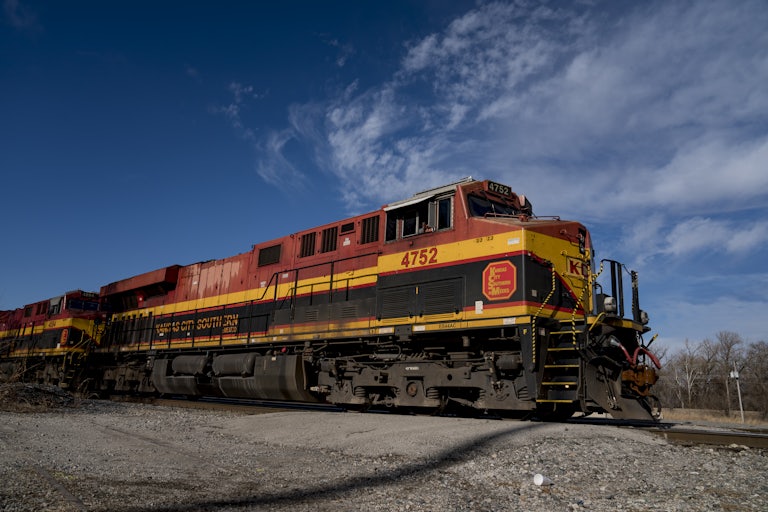 Whitney Curtis/Bloomberg/Getty Images
A Kansas City Southern railway locomotive passes through Kansas City, Missouri.
After a Norfolk Southern derailment crippled East Palestine, Ohio, and after Congress had its first hearing taking the company to task for industry corruption, federal regulators on Wednesday approved the first major U.S. corporate railroad merger in more than two decades: Canadian Pacific's $31 billion acquisition of Kansas City Southern.
The merger combines the two smallest of the largest railroad companies in the country; the combined duo will now reduce the number of Class I freight railroads from seven down to six. Moreover, the merger of the two will create the only railroad that links Canada, Mexico, and the United States.
Previously, Canadian National railroad had attempted to buy Kansas City Southern for $33.6 billion, but the plan fell through after the Surface Transportation Board rejected part of the merger plan.
While workers and regulators aim to get a hold on a runaway industry driven by a practice known as precision scheduled railroading, or PSR, that has cut jobs and made trains bigger and bigger—thus making the whole industry less safe—it's worth noting the relevance of this consolidation.
In 2011, billionaire investor Bill Ackman was undergoing a proxy battle with the railroad's board of directors. He won and installed Hunter Harrison—a railway executive who pioneered PSR at the smaller Illinois Central Railroad—as president and CEO of Canadian Pacific. Once there, he continued his PSR regime, further spurring the industry to be more profit-driven and less safety-oriented.
Now one of the test subjects of PSR becomes another emblem of consolidation, which opponents worry will lead to further job losses and fewer consumer choices in an already consolidated industry.
While proponents say the merger will allow for more shipments and a stronger linkage between the three nations in North America, there's surely reason for scrutiny. Existing debilitating conditions for workers and a status quo of over 1,000 derailments a year does not offer trust in the industry. A Surface Transportation Board analysis also found that the merger would increase the deployment of longer trains and more tank cars carrying hazardous materials, and even increase the already high risk of train derailments.
There's also the matter of worker negotiations. Last year, the Biden administration imposed a rail contract on workers that left them with no paid sick leave. On the same day that the U.S. Senate rejected an amendment to add paid sick leave days to the negotiations, Canada announced it would offer 10 days of paid sick leave to workers in the federally regulated private sector—which includes Canadian Pacific. Still, some of their workers are in the United States; now, Canadian Pacific must align with Kansas City Southern on worker benefit and wage packages, negotiating with their respective workforces together.
That the companies will need to navigate aligning how they treat their workers points to the broader issue. While regulators approve such a consequential merger, we have yet to address the current problems that plague the industry and that will only be compounded by the merger: unequal and insufficient worker wages and protections, a too-high risk of derailments, weak classifications of how much regulation should be on trains carrying hazardous materials, and weak safety standards for all trains. It has been barely a month since the East Palestine derailment—and the government appears readier to approve more consolidation than it is to address what led to such a disaster at all.