The Tennessee House Just Passed a Bill Completely Gutting Marriage Equality
The bill could allow county clerks to deny marriage licenses to same-sex, interfaith, or interracial couples in Tennessee.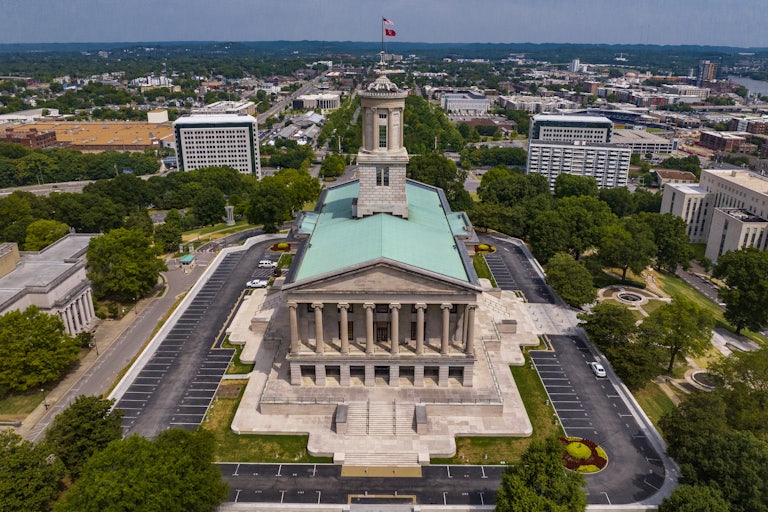 Joe Sohm/Visions of America/Universal Images Group/Getty Images
Tennessee state Capitol
The Tennessee House of Representatives has passed a bill that would allow people to refuse to perform a marriage if they disagree with it.
According to the bill, which passed Monday night, "a person shall not be required to solemnize a marriage."*
The bill, which now moves to the state Senate, is the latest in an onslaught of measures that the Tennessee legislature has passed attacking LGBTQ rights. This bill could also apply to couples where at least one partner is transgender, or to mixed race couples.
Tennessee law already says that religious leaders do not have to officiate weddings they object to. Critics say the new bill goes beyond that and would empower county clerks to refuse to certify marriage licenses, meaning that LGBTQ, interfaith, or interracial couples could be unable to get married at all, rather than just needing to find a new officiant for their ceremony.
Marriage equality is technically the law of the land thanks to the Respect for Marriage Act, which President Joe Biden signed in December. But Tennessee's bill exploits a major loophole in that law. Critics had long warned that the Respect for Marriage Act did not go far enough. The bill had been amended during the debate process to say that religious organizations do not have to marry same-sex couples, and the law also does not require states to actually issue same-sex marriage licenses.
This latest bill was passed alongside another measure that would require drag artists to obtain a permit from the government in order to perform. Both come just days after Governor Bill Lee signed two new laws, one banning drag performances in public and another banning gender-affirming care for minors.
The Human Rights Campaign slammed Tennessee's ongoing "obsession with anti-LGBTQ+ legislation."

"Instead of focusing on the issues that Tennesseans actually care about, radical politicians are wasting their time and using their power to target the LGBTQ+ community," HRC legal director Sarah Warbelow said in a statement. "These bills are not about protecting children and they are not about religious freedom."
"They are about stripping away the basic human rights that LGBTQ+ people have fought for over decades … and labeling us dangerous."
Supporters of Tennessee's bills, and dozens of similar ones moving through state legislatures across the country, say their main goal is protecting children. Trans people and drag performers have become a particular target for Republicans and right-wing extremist groups, who accuse them of being pedophiles. But all these bills do is vilify LGBTQ people, including children, and expose them to more violence.

* This article previously quoted the original bill text rather than the amendment that modified this section of the bill.