Rail Workers Cleaning Up Ohio Train Derailment Say They Were Never Given Proper Protective Gear
Workers say Norfolk Southern ignored their requests for protective gear, even as they began to fall sick.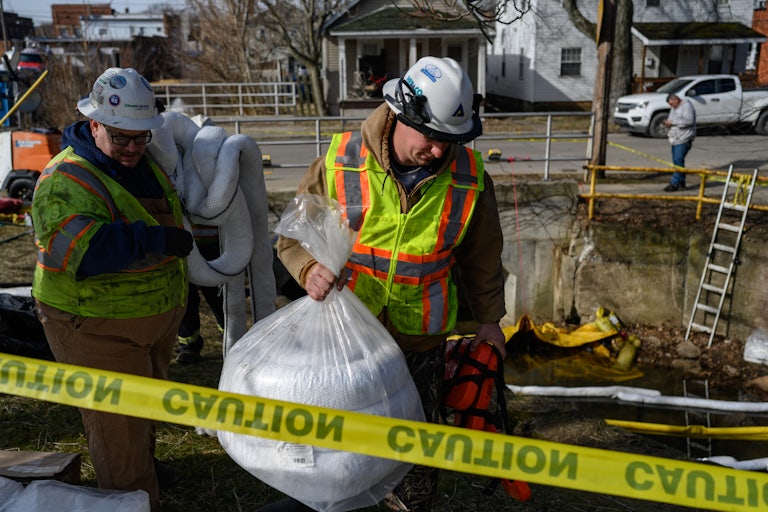 Rebecca Kiger/The Washington Post/Getty Images
Crews work along Sulphur Run, where chemicals from the train derailment are present in East Palestine, Ohio, on February 14.
Norfolk Southern workers are saying that, in the aftermath of the East Palestine, Ohio, train derailment, the rail giant assured them it was safe for them to clean up the mess, and that the company offered them little more than N95 masks to wear while doing it.
In a letter addressed to Ohio Governor Mike DeWine, union leader Jonathon Long wrote that in the immediate days following the derailment, Norfolk Southern directed approximately 40 rail maintenance workers to clean the crash site. Workers reported that the company failed to provide personal protective equipment.
Long, a 28-year veteran of Norfolk Southern and general chairman of the American Rail System Federation for the Brotherhood of Maintenance of Way Employees, or BMWED, told TNR that workers had asked for better respirators, but "none of the good ones were left." There was allegedly no additional equipment, even rubber gloves or boots—let alone hazmat suits or eye protection—for the workers; meanwhile, the workers were assured it was safe for them to continue working.
A spokesperson for the company said that the company coordinated their response "with hazardous material professionals who were on site continuously to ensure the work area was safe to enter and the required PPE was utilized, all in addition to air monitoring that was established within an hour."
What the company considers "required PPE" may be up for dispute.
One worker claimed to have called his supervisor, requesting to be transported off the site due to concerns for his safety; he was reportedly feeling nauseous and suffering from migraines. Allegedly, the supervisor said he would get back to the employee. The worker never heard back, and was left to keep working.
Other workers reported similar symptoms of migraines and nausea, even days after the derailment. Such reports are unsurprising, given that residents even miles out of city limits reported such symptoms and worse—even while not undergoing direct, prolonged exposure to the hazardous materials.
Long also wrote of troubling negotiations with the company as workers attempted to attain paid sick leave. An attached memo from the company showed that Norfolk Southern was bargaining the offer for paid sick leave, so long as BMWED relented on its opposition to the expansion of the company's automated inspection program.
"The gall to ask BMWED to rescind our comments and concerns about maintaining track structure integrity with a sensible precautionary measure in the form of qualified human track inspections following their test equipment while the world watches NS's mistake cause disruption and chaos in an American Hometown is unfathomably obtuse and shameless," Long wrote.
Long reiterated to TNR that workers are not opposed to the automated system. Rather, they're uncomfortable with the idea of substituting automation with the current practices that include checks conducted by train inspectors; they're perfectly satisfied with a system that includes both automated and manual procedures.
Though the BMWED workers were able to reach an agreement with the company, the behind-the-scenes look reveals troubling ways the company still dug in its heels before providing some of its workers paid sick leave.

"NS and other railroads alike must be stopped from continuing their cost-cutting business model and start focusing on how they can improve their performance to be as safe as possible," Long wrote to DeWine. "NS and other railroads alike must be held accountable in their operations, through rule-making and regulatory reform that establishes minimum safety standards in their operations."