Rail Companies Are Finally Giving Workers Paid Sick Days. This Isn't Close to the End of the Fight.
Note to the government: Don't ease up on the pressure now.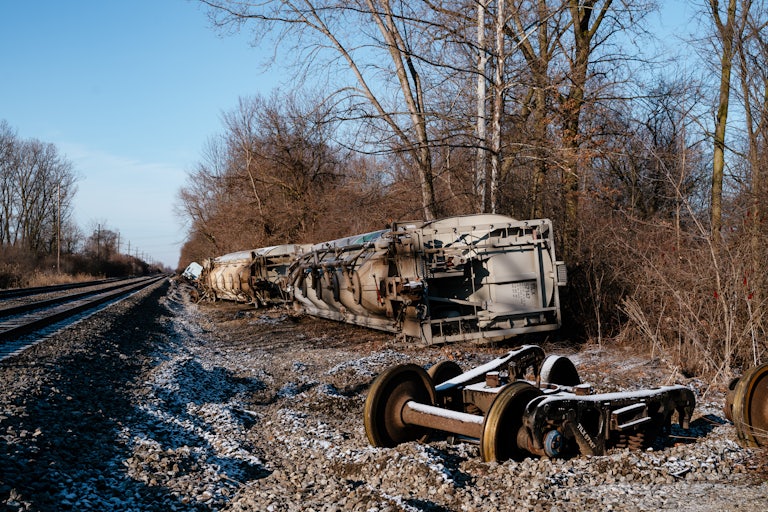 Nick Hagen/Anadolu Agency/Getty Images
A derailed Norfolk Southern train in Michigan, February 18
While the public is coming to understand how dangerously deregulated the railroad industry is, rail companies themselves are desperately trying to ward off regulation by finally giving workers the necessary benefits. In doing so, though, the companies reveal they could've done this of their own volition this whole time.
In the weeks since the disastrous February 3 Norfolk Southern train derailment in East Palestine, Ohio, as more details come to light on how threadbare rail regulation is, and how much of that is thanks to the close relationship between industry and government, companies have coincidentally begun announcing new benefits for workers.
On Wednesday, Norfolk Southern, whose train derailed in East Palestine, reached an agreement with the Brotherhood of Maintenance of Way Employes Division, or BMWED, to provide some 3,000 workers with four days of paid sick leave, and the ability to designate up to three paid personal leave days as paid sick leave.
On Monday, workers at Union Pacific announced an agreement between the company and the National Conference of Firemen and Oilers, or NCFO, and Brotherhood of Railway Carmen, or BRC. Effective April 1, the NCFO agreement prorates the deal to give workers three days of sick leave this year, and the regular four beginning in 2024; the NCFO members can use the paid sick time in half or full-day increments. BRC members, moreover, will have the ability to designate personal leave days for sick leave. In total, 2,100 Union Pacific workers will have gained the benefits.
On February 7, railroad company CSX reached agreements with the BMWED and BRC for four paid sick days, with another three paid personal leave days offered; the agreement also gives workers the option to dedicate unused paid sick leave to their 401(k) or to receive it in a payout. On February 10, the International Association of Machinists and Aerospace Workers, or IAM, and NCFO joined the agreement; on February 14, the IAM Roadway Mechanics division and BRC Carmen for Fruit Growers Express Company division signed on as well. The eight other unions are said to be signing on eventually as well; for now, some 6,000 workers will gain the new benefits.
The cascading agreements, with suggestions of more to come with other unions, is a good thing; workers are finally earning some of the baseline protections and benefits they deserve, ones the government failed in bipartisan fashion to advocate for previously. However, these incredibly late voluntary decisions to finally relent to workers' demands shows how they could've given these workers such benefits even without government regulation or public pressure—but they never did.
Meanwhile, railroad companies are still getting away with a myriad of other things—too big of trains with too little staff; using outdated braking and safety systems, minimizing inspections and audits; and more. Accordingly, the pressure shouldn't dissipate, but rather increase.
Rail workers (who have been proven right in their warnings of disasters like that in East Palestine) are rallying for complete public ownership of rails. There is widespread, cross-partisan public support for finally clamping down on these corporate freebooters. Now is a moment demanding to be seized. While these companies pretend to tap their brakes, the government would do well to call their bluff and proceed to full throttle.