Rep. David Cicilline From Rhode Island to Resign, Setting Up Competitive Democratic Race
A special election for his seat will take place later this year.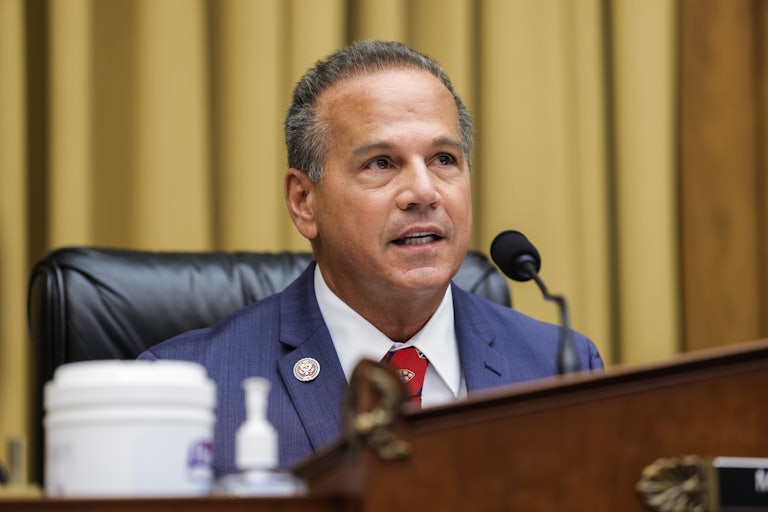 Graeme Jennings-Pool/Getty Images
Rhode Island Representative David Cicilline will resign at the end of May to lead a state charity foundation, setting up what is sure to be a competitive special election among Democrats.
Cicilline's decision, first reported Tuesday by The Boston Globe, will trigger a special election after he steps down. This is the second time in two years that a Rhode Island lawmaker has caused a stir, after Representative James Langevin announced in 2022 he would retire after 11 terms in Congress. (Rhode Island has only two congressional districts.)
"For more than a decade, the people of Rhode Island entrusted me with a sacred duty to represent them in Congress, and it is a responsibility I put my heart and soul into every day," Cicilline told the Globe. He promised to bring "the same energy and commitment" to serving as president and CEO of the Rhode Island Foundation.
Cicilline has served in Congress since 2011, and many political analysts thought the 61-year-old could hold the role for the rest of his life. He was hugely popular in his district, winning more than 64 percent of the vote during the 2022 midterms.
Before working on Capitol Hill, Cicilline was mayor of Providence, Rhode Island, for eight years. He was the first openly gay mayor of a U.S. state capital. Since then, he has become the longest-serving current House representative who identifies as LGBTQ.
On the Hill, Cicilline was a major advocate for antitrust law and LGBTQ rights. He chaired the House Subcommittee of Antitrust, Commercial, and Administrative Law, which held hearings with tech giants including Google, Facebook, and Amazon. Most recently, he participated in the hearings on Ticketmaster's hold on the music performance industry.
Cicilline co-chairs the LGBTQ+ Equality Caucus and was a lead sponsor of the Respect for Marriage Act, which codified marriage equality and passed with broad bipartisan support. He is also vice chair of the Congressional Progressive Caucus.
The congressman was able to draw on his experience serving as a Washington public defender in the 1980s during Donald Trump's second impeachment. Cicilline was an impeachment manager during the former president's trial for insurrection on January 6.
While Cicilline clearly enjoyed high standing in Congress and favorable public opinion at home, it's possible he's stepping away to have a more immediate effect on his constituents. Democrats are the minority party in the House, and Cicilline was not up for leadership positions such as whip or caucus chair.
He reportedly considered running for Rhode Island governor, but opted to stay in Congress. Now, running the Rhode Island Foundation will give him the power to influence and actually implement major policy decisions in his state, ranging from affordable health care to ending homelessness.