Marjorie Taylor Greene Says She Wants to Manipulate People's Votes
Greene's latest proposal is to block Democrats' right to vote if they move from a blue state to a red one.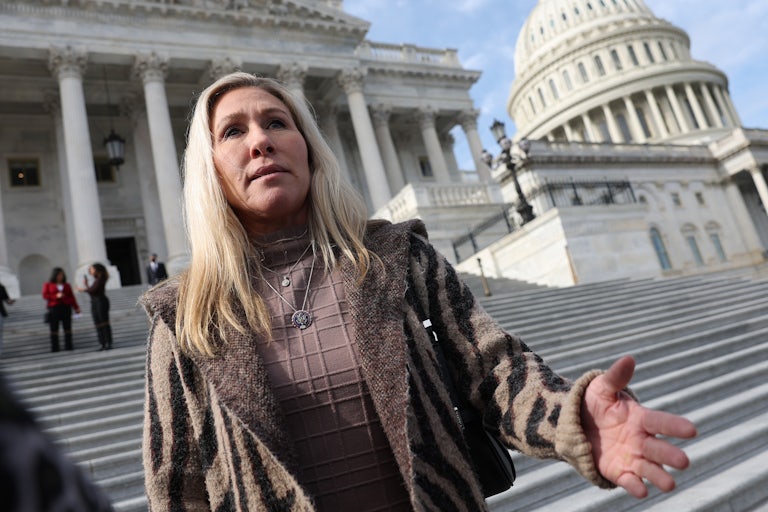 Kevin Dietsch/Getty Images
After seditiously calling for a "national divorce," Marjorie Taylor Greene is now suggesting red states go ahead and block Democrats' right to vote if they moved there from a blue state, because their values are just too different.
Greene illustrated her tyrannical vision on Charlie Kirk's show on Tuesday.
"Red states can choose in how they allow people to vote in their states," Greene started, after Kirk asked, in casually fascist fashion, how to "stop" the left from "trying to invade our states or our counties."
"What I think would be something that some red states could propose is: well, okay, if Democrat voters choose to flee these blue states where they cannot tolerate the living conditions, they don't want their children taught these horrible things, and they really change their mind on the types of policies that they support, well once they move to a red state, guess what, maybe you don't get to vote for five years," Greene said. "You can live there, and you can work there, but you don't get to bring your values that you basically created in the blue states you came from by voting for Democrat leaders and Democrat policies."
Yes, Greene and her far-right contemporaries often express and advocate for many, at best absurd, at worst fascist, ideas. But take one moment to consider what would happen if any Democrat suggested this notion: that any individual moving away from a red state into a blue state would have to wait five years to vote. That, unless you agree with us, you're not allowed to participate in electing the representatives who would hold power over you.
"...This would be up to red states to be able to choose to do something like that, so that their red states don't get changed," Greene continued. "Which is what's happening, unfortunately, when Democrat voters leave their Democrat states and they take their Democrat votes with them."
Beyond being remarkably authoritarian, Greene's comments don't even seem coherent. Greene apparently forgets her own state has two Democratic senators (some may even risk calling this a "blue state"), and that, under her dream dictatorial proposition, people who move from blue states to red states, could, in fact, be conservatives too.
Greene has complained over and over again about Democrats apparently trying to "divide" America. Meanwhile, she has—among her history of racism, antisemitism, and inciting an attack on the Capitol—now called for a second secession and for red states to be able to control how people vote. Not exactly the recipe for a unifier, or really someone who should even still have a job in a body meant to serve everyone in this country, and not just the people she likes.