Florida GOP's New Anti-Trans Bill Is So Extreme It Could Ban Treatment for Breast Cancer
The bill is one of the cruelest in the country targeting transgender people.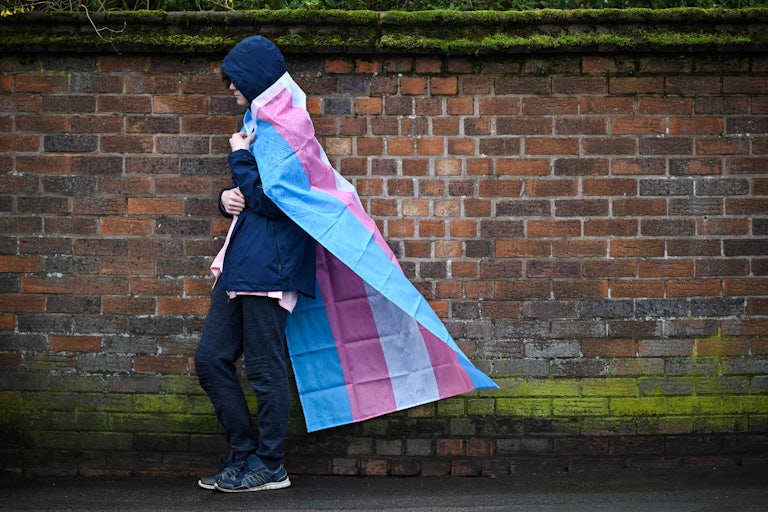 Oli SCARFF/AFP/Getty Images
A Florida House of Representatives committee on Wednesday advanced an anti-trans bill that is so broad and so extreme that it could also prevent people from getting treated for breast cancer.
The bill passed the Healthcare Regulation Committee by a vote of 12–5 and now heads to the House for a vote. The measure is one of the cruelest in the country to target transgender and LGBTQ rights and care. It bans gender-affirming care for minors and would force them to medically detransition, or stop receiving treatments such as hormone therapy. But the bill's vague wording has larger repercussions as well.
The text defines gender clinical interventions as "procedures or therapies that alter internal or external physical traits," including surgeries that change "primary or secondary sexual characteristics." During the debate, Democratic Representative Christine Hunschofsky pointed out that this could prevent people from getting treatment for breast cancer, as the overly broad language could apply to mastectomies.
Bill sponsor Randy Fine—who prior to being a Republican representative was a gambling industry executive, not a doctor—was surprised to learn that young people can get breast cancer.
By the same definition, people who need prostatectomies to treat prostate cancer could also be denied treatment. The bill also bans hormone treatments, which could potentially affect care for menopause, stunted growth, and birth control.
Republicans across the country have introduced bills targeting gender-affirming care, insisting that by doing so, they are protecting children. But the Florida bill goes a step further and says the quiet part out loud: It targets care for trans adults too. The bill bans health insurance policies from covering gender-affirming care, which would prevent adults from accessing treatment. It also prohibits anyone from changing the gender on their birth certificate to reflect their identity.
As civil rights attorney Alejandra Caraballo pointed out, the measure could also dissuade medical providers from providing care to anyone because they could face felony charges and risk losing their license to practice. Anyone who gets a procedure that inadvertently alters a primary or secondary sexual characteristic can sue their care provider for malpractice for up to 30 years after.

Bills such as the latest Florida measure make it clear that Republicans don't really want to protect children; they want to erase LGBTQ people from public life. Gender-affirming care decreases the amount of depression and anxiety that trans and nonbinary teenagers feel, and it makes them less likely to consider suicide. Instead, lawmakers are criminalizing LGBTQ people of all ages and putting them at risk of real harm.