Every Detail in the E. Jean Carroll Case Is Proof of Why Rape Victims Don't Come Forward
"He raped me, whether I screamed or not."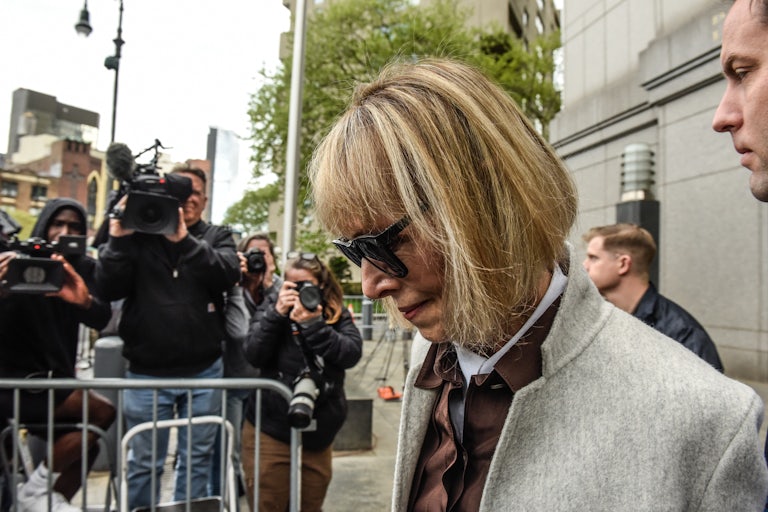 Stephanie Keith/Bloomberg/Getty Images
Donald Trump is on trial for rape. Every detail in the case thus far shows that things haven't really changed since the #MeToo movement.
Writer E. Jean Carroll is suing Trump for defamation and sexual assault. Trump has rejected the rape allegation. He has yet to appear at the trial, which began earlier this week.
During cross-examination Thursday, Trump lawyer Joe Tacopina tried to show that Carroll was making her story up. "You were supposedly raped?" he asked early on.
"Not 'supposedly.' I was raped," Carroll responded.
Carroll accused Trump in her 2019 memoir of raping her in the Manhattan Bergdorf Goodman department store in the mid-1990s. She has sued him twice for defamation: first in 2019, when he said she made up the rape allegation to promote her book, and again in November for posts he made about her on social media.
Tacopina went on to ask her Thursday whether she screamed during the alleged assault. When Carroll said she didn't, Tacopina repeatedly pressed her on the point.
"He raped me, whether I screamed or not," Carroll replied, nearly shouting, according to reporters in the courtroom.
Carroll also said that if she had been lying, "I would say I was screaming my head off." Maybe then more people would have believed her, she added.
Tacopina also asked Carroll why she only told two friends instead of going to the police. Carroll said that she was scared of what Trump might do to her, pointing out that "he has two tables full of lawyers here today."
Carroll has at least some reason to be concerned. At least 26 women have accused Trump of sexual harassment or assault since the 1970s, all of which he has denied. He then went on to become president of the United States.
And the line of questioning in the case shows exactly why so many people, not just Carroll, hesitate to come forward after they have been sexually assaulted. Nearly 80 percent of rapes and sexual assaults go unreported, according to a 2016 Justice Department report. Many survivors are afraid of retaliation—from both the perpetrator and society in general—as well as that their allegations will be distorted. Another major concern is simply that they won't be believed.
The #MeToo movement was supposed to be a watershed moment, when society began pushing back on sexual assault and the people who perpetrate it. Instead, people like Carroll are accused of lying for money or told their story isn't believable because they didn't react a certain way. They're also attacked all over again, as if what happened to them is their fault.
Carroll told the court Thursday that she logged on to Twitter in the morning and found a slew of comments calling her a "liar," a "slut," "ugly," and "old." But then, getting emotional, she said, "I couldn't be more proud to be here."