The 10 Most Fascist Things Tucker Carlson Said on Air
The Fox News host may have left the network, but don't forget all the damage he caused.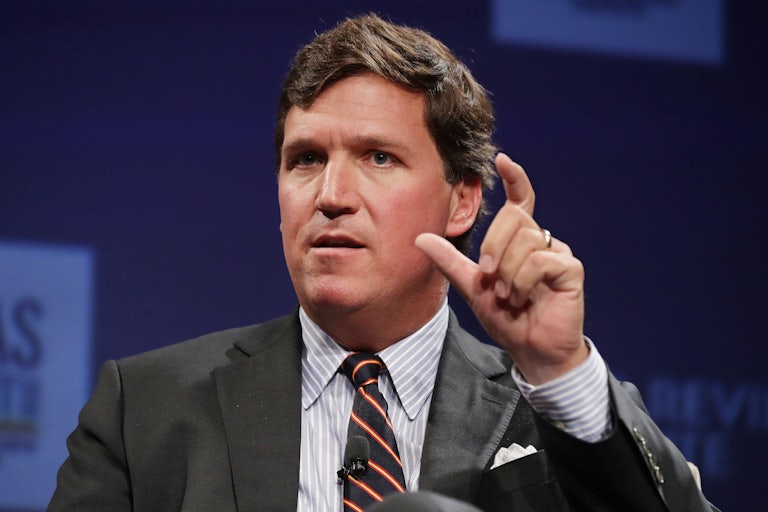 Chip Somodevilla/Getty Images
Fox News has split with its host Tucker Carlson, who was notorious for his ultra-right-wing and at times bizarre commentary.
Here's a look back at 10 of the most fascist things Fox's top host said on air:
1. He has promoted the "great replacement theory."
Carlson has repeatedly pushed the "great replacement theory," which the Southern Poverty Law Center defines as a "racist conspiracy narrative [that] falsely asserts there is an active, ongoing, and covert effort to replace white populations in current white-majority countries." He has argued that Democrats want to replace white people so they can control the country.
2. He said Vladimir Putin wasn't so bad.
3. He said the desire to procreate has been "subverted" by birth control and abortion.
4. He complained about "the total collapse of testosterone levels in American men."
Carlson has insisted that masculinity is supposedly on the decline in the United States. While both the theory and his suggested solution—tan your testicles—are ridiculous, they stem from a right-wing belief that attacks on masculinity upset the social order.
5. He said white supremacy is not a real problem.

6. He said the January 6 rioters were "peaceful protesters."
House Speaker Kevin McCarthy gave Carlson access to the security footage from the January 6 insurrection, and the television host used the videos to completely whitewash the riot.

"Taken as a whole, the video record does not support the claim that January 6 was an insurrection—in fact, it demolishes that claim," Carlson falsely insisted. His coverage was so bad that even a few Republican lawmakers criticized his show.
7. He knowingly lied that the 2020 election was stolen.
Carlson repeatedly insisted during his show that the 2020 presidential election had been rigged in favor of Joe Biden. But court documents published during the Dominion Voting Systems lawsuit against Fox showed that Carlson knew better.
Text messages and deposition excerpts show that hosts including Carlson knew the election conspiracies were false and that former President Donald Trump's lawyers weren't credible, but they spread the conspiracies and invited the lawyers on air anyway. Carlson, who has repeatedly fawned over Trump on his show, even texted someone that he was looking forward to ignoring Trump. "I hate him passionately," Carlson said of the former president.
8. He called for an insurrection after Trump was indicted.
After Trump was indicted, Carlson called for violence and for people to stockpile AR-15s. He also referred to the indictment as a "political purge."
9. He called Trump "sensible and wise."
Just a few weeks after the release of his text messages showing how much he hated Trump, Carlson had the former president on his show for an obsequious interview. Carlson barely got a word in during the hour-long show, but he did manage to refer to Trump as "sensible and wise."
Trump was then given free rein to spout whatever falsehoods and fantasies he wanted. He had been arrested just one week before for 34 counts of falsifying business records.
10. He minimized the severity of statutory rape and said women are "primitive."
Carlson made weekly calls to a shock jock radio show between 2006 and 2011. During those hour-long calls, he repeatedly made vile comments about women and sex. Media Matters for America resurfaced those recordings in 2019, revealing that Carlson had downplayed the gravity of statutory rape and called women "primitive."
During one call, Carlson said that child marriage is not "the same thing exactly as pulling a child from a bus stop and sexually assaulting that child."
"The rapist, in this case, has made a lifelong commitment to live and take care of the person, so it is a little different," he said, by way of a totally normal and not at all horrifying explanation.

In another call, Carlson called women "extremely primitive" and "basic." "They hate weakness. They're like dogs that way," he said.
Check out even more bonkers things Carlson has said here.