Expert Witness Throws Jim Jordan's Latest Troll Job Into Hilarious Disarray
The Judiciary Committee chairman brought his traveling road show to New York City to fearmonger about crime, only to be told: "Now do Ohio."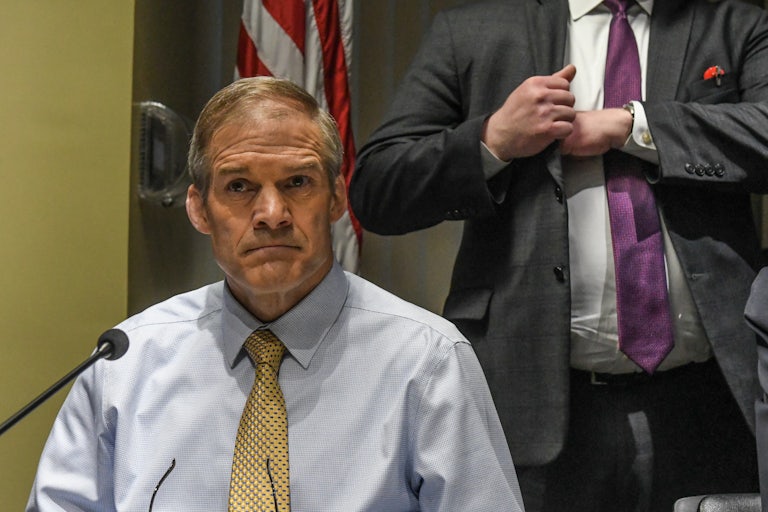 Stephanie Keith/Getty Images
House Judiciary Committee chairman Jim Jordan
On Monday, Jim Jordan brought held a Judiciary Committee hearing in Manhattan, where he and his fellow House Republicans attempted to paint New York City as a crime-ridden disaster.* However, they instead managed to remind Americans that loose gun laws and Republican leadership have led to high crime rates and unlawful schemes that ship guns from red states to blue ones.
Jordan's New York City field trip was part of a larger effort among House Republicans to try to discredit Manhattan District Attorney Alvin Bragg, who added a new historical footnote to the twice-impeached former President Donald Trump's checkered record by making him the first president ever to be criminally indicted. Republicans on the select committee hoped their hearings would undercut Bragg by highlighting what they characterized as a supposed crime crisis happening on his watch. Jordan, the House Judiciary Committee chairman, staged this "field hearing" just steps away from Bragg's office.

But not everything went off according to plan. During the hearing, Jim Kessler, the executive vice president for policy at the centrist think tank Third Way, testified about how safe New York City actually is, versus the safety of the home bases of some of the House Republicans leading the Bragg and New York smear campaign.

"New York City is safer than most of the states of the members sitting on the dais on the majority side. In 2020, for example, New York City's murder rate was 18% below the national average for the entire United States," Kessler began. "Mr. Chairman, Ohio's murder rate was 59% higher than New York City's." He continued, listing other places with high crime rates relative to New York City—including Louisiana, Texas, South Carolina, Florida, Kentucky, North Carolina, Indiana, Arizona, and Alabama.

"A hearing about the ravages of crime could be in Alabama with its towering homicide rate and a mass killing that just happened yesterday, or Louisville, where five people were murdered in the blink of an eye at a downtown bank," Kessler continued, referring to the weekend mass shooting at a sweet 16 birthday party and the Louisville, Kentucky, mass shooting last week. "Or the murder capital of California, which is not Los Angeles or San Francisco or Oakland, but in Speaker McCarthy's district of Kern County with its county seat of Bakersfield. And it has been the murder capital of California for six years running."

Kessler went on to mention the so-called "iron pipeline"—the trafficking of guns from states with looser gun regulations like Florida, Georgia, and South Carolina to places like New York, New Jersey, and Rhode Island, which often have tighter gun laws. "Wouldn't it be great if this hearing was about how illicit guns are trafficked to places like New York City, New York, Boston, Philly, Chicago and on and on, and how those guns terrorize the innocent people living in those places and elsewhere?" Kessler posed. "That's the sort of thing Congress would do if it really cared about what was happening with regard to crime in New York City."

"There are eight and a half million people living in New York City on this tiny plot of land. Bad things happen here, no doubt," Kessler said. "But the miracle of New York City is how well this enormous chunk of humanity mostly gets along and suffers less crime than much of the nation."

Kessler was later questioned in the hearing further about New York City's relative safety versus places across the country, from Mississippi and Wyoming to Missouri and Ohio. Representative David Cicilline decided to be clever.

"In light of the testimony we just heard, what is the mechanism for the committee to transfer this hearing to Ohio, where the crime rate is significantly greater than here in New York?"

He added, "How do we move the venue so we can have a hearing in a city or state that has a serious crime, the state of Ohio?"

Jordan quickly dismissed the quip, saying it was not a proper "parliamentary inquiry."
Further illustrating how much of a joke the whole charade is, Representative Matt Gaetz chimed in during his time to address these high crime rates in places beyond New York City. "To the extent that there is an impact on crime rates in major cities, I would suggest that that is exactly what you get with the 'Soros-ization' of the United States Justice system," the Florida Republican said, echoing the sort of sweeping antisemitism even Republican leadership has embraced. (Remember folks: It's only antisemitism if it's Ilhan Omar talking about Israel's treatment of Palestinians; it's not if we're saying rich Jewish people control society.)
* This post originally misstated the committee organizing the hearing.