What Can the FDA Actually Do About the Abortion Pill Ruling?
As the nation awaits a final decision on the abortion pill, amid dueling legal cases, there is one easy way the FDA could help make sure people still have access.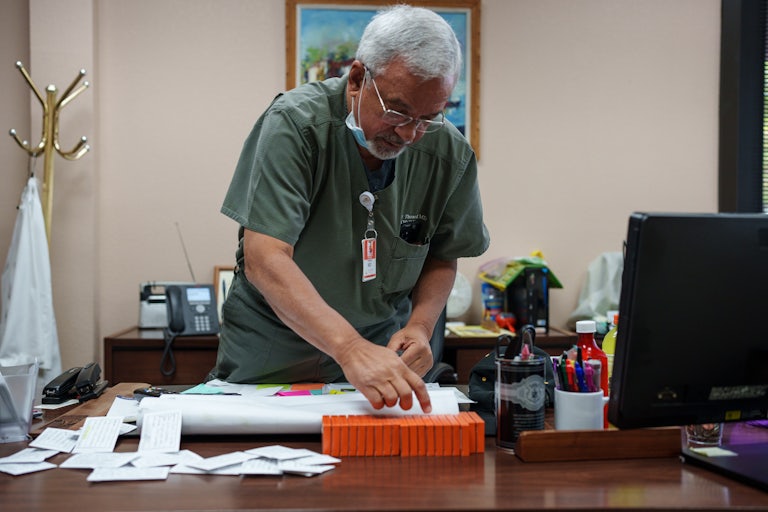 Paul Ratje/The Washington Post/Getty Images
A doctor prepares doses of mifepristone, the abortion pill, in his clinic in Santa Teresa, New Mexico.
A shocking ruling out of Texas looks like it could take abortion pills off the market, but all hope is not lost. The Food and Drug Administration has a course of action that will let it comply with the court and still maintain access to the drug.
Texas federal Judge Matthew Kacsmaryk ruled Friday that mifepristone, one of the medications used to induce an abortion, had been improperly approved by the FDA and should be yanked from the U.S. market. Another judge has filed a dueling injunction to keep the drug available, and the Department of Justice has appealed the case.
So as the conflicting law proceedings swirl around, what can the FDA do to keep mifepristone available for the people who need it?
Lawmakers, including Democrats Ron Wyden and Alexandria Ocasio-Cortez and even Republican Nancy Mace, have called for the administration to ignore the ruling and keep mifepristone on the market.

"I believe the Food and Drug Administration has the authority to ignore this ruling, which is why I'm again calling on President Biden and the FDA to do just that," Wyden said Friday.
But law experts warn against urging the government to "ignore" the ruling, which has no legal precedent.
"Ignoring court rulings is a very serious thing that undermines basic principles of law," David Cohen, a professor at Drexel University's Kline School of Law, told The New Republic. While he wouldn't take ignoring Kacsmaryk's ruling off the table if the situation became extreme enough, he pointed out that there is another, better option.
Enforcement discretion is a decades-old practice established by a 1985 Supreme Court case that determined administrative agencies can decide when to enforce their own rules, based on which offenses are the most important to target. Cohen compared it to police officers not ticketing everyone who drives a few miles over the posted speed limit, focusing instead on people who drive far too fast.
"It's a normal part of the American justice system," he explained. "It's a problematic part, in some ways, because people can use discretion to go after people of color more. But it is a normal part to weigh the pluses and minuses of different offenses and different levels of offenses and go after the ones that you feel you need to use your resources most for."
The Biden administration has already indicated that it does not intend to ignore the Texas ruling and will wait for the result of the appeal. Business as usual will continue until the end of the week, when Kacsmaryk's ruling goes into effect, or until the appellate court rules.
But a judge in Washington state has ruled to maintain the status quo, which directly contradicts the Texas ruling.
The only way for the FDA to comply with both rulings, which are both legally binding, is to use enforcement discretion. In doing so, the agency acknowledges that the approval on mifepristone has been suspended. But the FDA also acknowledges that mifepristone is safe for use and that a better use of agency resources is to go after what Cohen describes as "serious offenders," or other, nonabortion drugs that are unapproved and risky.
Mifepristone was approved for use in 2000. Since then, it has remained categorized as a high-risk drug, even though there have been more than 100 medical studies proving its safety and it is safer than thousands of other FDA-approved drugs, including penicillin and Viagra. Rachel Rebouché, the dean of Temple University's law school, pointed out that the FDA has "arguably over-regulated mifepristone."

But this case isn't just about whether mifepristone is safe or even about the right to an abortion. It's also about "deference to a federal agency's expertise."
"The FDA's authority has been undermined by the [Texas] suit and reaffirmed by the [Washington] suit," Rebouché told TNR. "To take seriously that it ignored risks, risks unsupported by any credible evidence, suggests questions as to what federal courts might decide about other federal agencies' decisions."
Even if the appellate court upholds the Texas ruling, enforcement discretion gives both Biden and the FDA the ability to keep mifepristone on the market while still complying with the judicial system. Cohen, Rebouché, and Pitt University law professor Greer Donley were some of the first to raise this option back in February, noting in a Slate article that even if mifepristone loses its approval, things aren't necessarily as bad as they seem.
"People have been very quick to make this judge have more authority than we should be giving him," Cohen said of Kacsmaryk.
There's been a lot of hand-wringing over the lawsuit, well before Kacsmaryk ruled. People are rightly concerned: More than half of all abortions in the United States are done via medication, a two-step process that consists of taking a dose of mifepristone and then a dose of misoprostol.
These drugs can be ordered online and delivered via mail, making them a key resource for people who live in states that have cracked down on abortion access since Roe v. Wade was overturned last summer.
So the thought that one man could take that away is understandably frightening. By raising the alarm, people brought national attention to the issue. The governments of both Washington state and Massachusetts announced plans to stock up on mifepristone in case residents need it. The widespread outrage could also be used to raise donations for abortion rights groups.
But some of the concern also stems from a lack of general understanding about the legal nuances and complexities of the case.
As Cohen, Rebouché, and Donley say in their Slate piece, Kacsmaryk "is not all-powerful." The FDA still retains the ability to keep mifepristone on the market, and it should flex that power now.
But "to just throw up their hands in the air and say, 'Nothing we can do, the drug is now banned,' (a) that's not a correct reading of the order," said Cohen. "And (b) that's giving up."