Expelled Tennessee Lawmaker Justin Jones Is Back in the House (for Now)
The representative was one of two Black Democratic lawmakers expelled after talking about gun control on the House floor.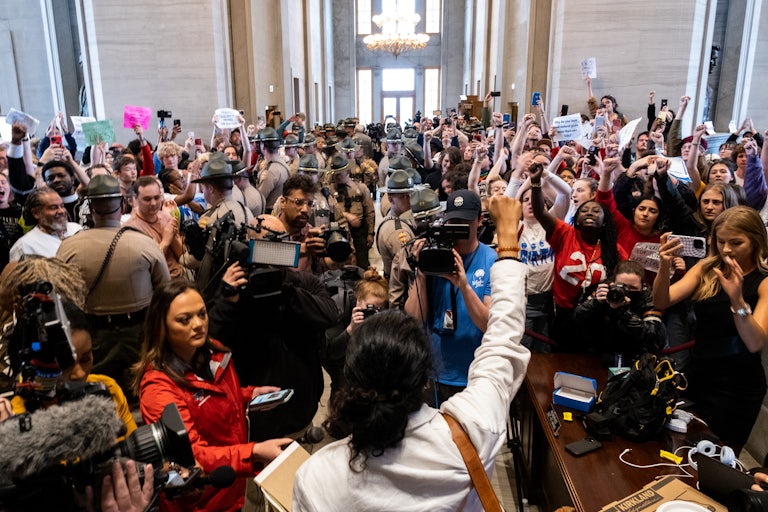 Seth Herald/Getty Images
Democratic state Representative Justin Jones of Nashville gestures to supporters during a vote on his expulsion on April 6.
It's been just days since Tennessee Republicans brazenly expelled Democratic Representatives Justin Jones and Justin Pearson from the House, but Jones is already on his way back.
On Monday, the Nashville Metro Council voted 36–0 to send Jones back to represent the constituents who already elected him.
Typically, the council would have elected an interim representative, a process that could've taken at least four weeks. But members decided to vote to suspend the rules and hold a nomination vote for Jones's reappointment as the interim representative.
The vote will have Jones back in the state Capitol for House business Monday. The 4:30 p.m. vote came just prior to a House session scheduled for 5 p.m.
Jones, Pearson, and their colleague Gloria Johnson disrupted House proceedings two weeks ago, in solidarity with thousands of children, teachers, parents, and other residents who had been protesting against gun violence outside the state Capitol. The protests erupted after a Nashville school shooting left three children and three adults dead.
Johnson, who is white, survived an expulsion by just one vote. But Jones and Pearson, who are both Black, were expelled.
The Shelby County Commission, home to Memphis, will be hosting a special meeting on Wednesday to vote on an interim representative as well; the vote will essentially be a vote to determine whether the commission will reappoint Pearson back to his seat.
Both seats will still have special elections in the coming months, and Jones and Pearson have expressed their plans to run and officially retake their seats.
Not to be outdone, Republicans are still finding a way to impose their anti-democratic desires on the process. Republican state lawmakers are reportedly threatening to take away government funding for Memphis projects if Pearson is reappointed. The money being threatened is reportedly appropriated for schools and even sports stadiums, like NBA team Memphis Grizzlies' FedExForum or the University of Memphis's Simmons Bank Liberty Stadium.