Twitter Admits It's Been Forcing Elon Musk on Your Timeline
When Twitter released its source code, it tried to spin it as some public service. That didn't quite go to plan.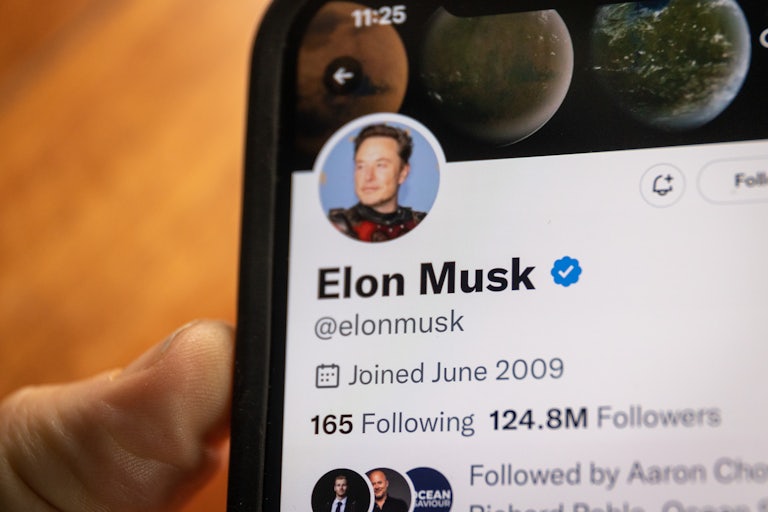 Matt Cardy/Getty Images
It's confirmed: Twitter is forcing Elon Musk onto your timelines.

On Friday, Twitter announced the public release of the source code for various parts of the website, including their recommendations algorithm, which drives the much-assailed new "innovation," the "For You" timeline.
The company described the release as an effort to make "Twitter 2.0" transparent, while also claiming they took additional steps to ensure no released code would compromise user security and privacy (something already under threat).
After the release, one part of the code stuck out more than others, a breakdown of tweet authors into four categories: Elon Musk, "Power User," Democrat, or Republican. The code suggested the "For You" recommendations have specific directives for these four categories of tweet authors—and something particularly distinct for Musk's own account.
"It shouldn't be there," Musk said on the code, during a Twitter Spaces live conversation after the release. "There's a ton of stupid and embarrassing things being shown by making the code open source."
Twitter's release initially sounded almost egalitarian. Calling itself the "town square of the internet," the company said in a statement that it is "doing this to foster transparency and build trust with our users, customers, and the general public."
We invite the community to submit GitHub issues and pull requests for suggestions on improving the recommendations algorithm. We are working on tools to manage these suggestions and sync changes to our internal repository. Any security concerns or issues should be routed to our official bug bounty program through HackerOne. We hope to benefit from the collective intelligence and expertise of the global community in helping us identify issues and suggest improvements, ultimately leading to a better Twitter.
In reality, the move seems less like a positive and constructive action and more like a meager P.R.-laced attempt to soften the forthcoming overhaul of verified users—and a way to enlist free labor to do their job for them. The "community" is invited to dig through the code and report security concerns or issues themselves. Twitter wants to "benefit from the collective intelligence and expertise" of people they very well could hire (and perhaps previously did). But how can you hire them, when ad revenue is down almost 90 percent and your own CEO estimates the company's value to have dropped in half since he took over?
And the best part? If things go wrong (which they know they will), it's not Twitter's fault—it's our fault.