What Trump and the Republicans Don't Understand About the Law
For starters, the former president was not criminally indicted by a bloodthirsty Democrat. Private American citizens voted to charge him.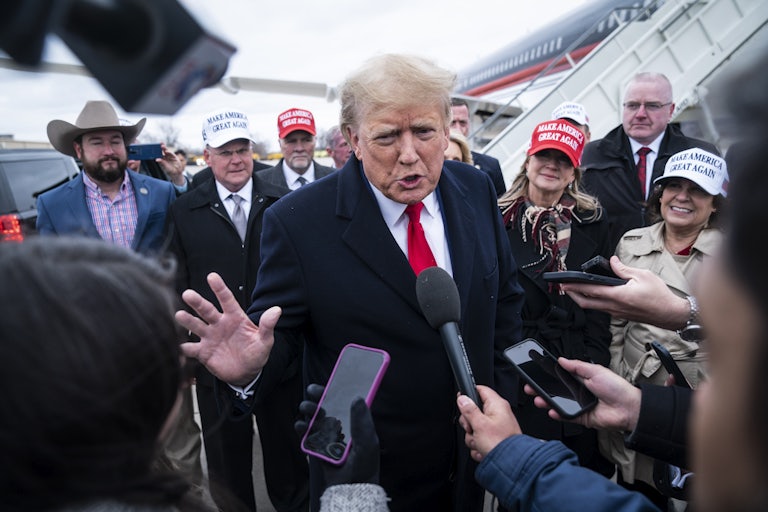 Jabin Botsford/The Washington Post/Getty Images
The first thing to keep in mind is that Manhattan District Attorney Alvin Bragg didn't "do" this. He didn't indict Donald Trump. A grand jury did—a group of Trump's peers (well, let's assume they're not sociopathic fascists, but I mean they're citizens). These citizens heard testimony, examined evidence, and took a vote on whether the district attorney had presented sufficient evidence to suggest that a crime may have been committed. And the grand jury decided he had. The funniest tweet I saw Thursday night was from someone remarking on how Trump ought to be glad that he finally got the most votes for once.

Yes, obviously, Bragg pursued the case. Whether that turns out to be wise, we'll see. What Trump is alleged to have done here is bad, but far from the worst thing he's done. That would be, you know, trying to overthrow the government and get his vice president killed.
But this much is clearly true: Michael Cohen went to prison in part because of the payment to Stormy Daniels (he was convicted more on tax evasion, but campaign finance violations—the payment to Daniels—were one count in his indictment). If it was illegal for Cohen to make the payment, then surely it's illegal to have ordered the payment, which is what Trump is alleged to have done. That's all pretty simple.
So no, this is not "Communist-level shit," as Don Jr. tweeted. And Joe Biden had nothing to do with this. Ditto George Soros. The Republican and right-wing reaction is just insane. Trump's been in legal jeopardy his entire life. Read the Wikipedia entry "Legal Affairs of Donald Trump": around 3,500 lawsuits, 1,450 as defendant; 169 suits in federal court; 100 tax disputes, with 36 liens against his properties for nonpayment of taxes; settlements in 100 cases; and of course the conviction of the Trump Organization last December on 17 criminal charges. He's been a one-man crime wave his entire adult life. The wonder is that it's taken this long for him to be indicted.
The indictment remains under seal, so we don't yet know the charges. But it was interesting to see that the last witness the grand jury spoke to was David Pecker. Remember, the National Enquirer publisher admitted in 2018 that back in 2015, he and team Trump entered into their now-famous "catch and kill" agreement, by which the Enquirer would get the rights to stories that would be potentially embarrassing to Trump and bury them. They entered into this arrangement in August 2015, the month after Trump descended that escalator to warn us about those Mexican rapists. Pecker was involved not only in the Daniels situation but in that involving Karen McDougal, another woman who was trying to sell a story of an affair with Trump.
As batshit as the right is going, remember this: This may well prove to be Trump's first indictment. There's Fani Willis down in Atlanta, and the Justice Department and special counsel Jack Smith looking into January 6 and the classified documents at Mar-a-Lago. Those all seem more serious and in some ways clear-cut than the Daniels matter. Imagine what the right will do if Trump faces two more indictments.
This is going to get seriously ugly. I watched about 15 minutes of Tucker Carlson on Thursday night. Literally every sentence he spoke was an exaggeration or a lie or a willful misrepresentation of the truth (and remember, we know from the Dominion lawsuit that Carlson said he hated Trump "passionately"). He hit the "banana republic" theme and argued that this was a purely political move designed to stop Trump from getting back into the White House.
Well, no. It's about the law. Again, we'll be able to make a better assessment when we see the charges. But this isn't about what Trump might do. It's about what he (allegedly) did. And as for the precedent this sets, it's entirely positive. Presidents should be prosecutable. They should be prosecutable even when they're president. If someone is breaking the law, he's breaking the law. The idea that a president has to worry about the law strikes me as a good thing, in this case and in all future cases where the people might have elected a corrupt person as president.
So this will prove to be good for the republic—if the republic survives this episode. Trump and the pro-Trump media have succeeded in creating a parallel-universe reality that at least a third of the country buys. That Joe Biden is behind this. That it's a stop-Trump conspiracy. That George Soros is behind this. That Democrats have weaponized the justice system. And on and on. They're enraged. And they're armed. If you're not really worried about that last bit, you're not paying attention. I don't want to give the bad guys any ideas, but it isn't hard to conjure up some violent scenarios that Trump supporters might be willing to pursue. Tucker Carlson also "joked" Thursday night that now was a bad time to give up your AR-15. Trump himself has tweeted about "potential death and destruction" that could result from this.
So be scared. But be resolute. If Michael Cohen broke the law, which he did, then it stands to reason that Donald Trump did too, if the prosecutors can prove to a jury that he directed Cohen's actions. This is about 2016, not 2024.