Donald Trump Responds to Indictment News With Antisemitic Conspiracy Theory and a Very Big Typo
Could have written this statement ahead of time, man.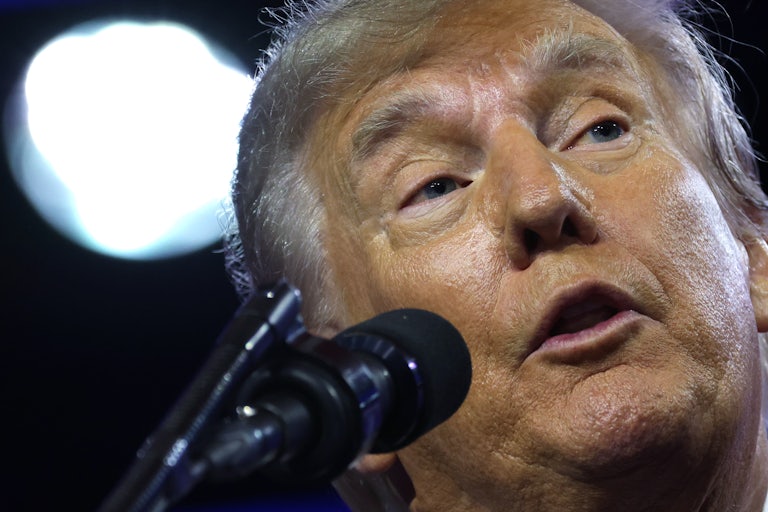 Alex Wong/Getty Images
After becoming the first former president to ever be criminally charged, twice-impeached former President Donald Trump reacted in classic Trump fashion: typos, dramatic capitalization, and antisemitic dog-whistling.
On Truth Social, Trump called America a "THIRD WORLD NATION" and misspelled the word 'indicted.'
"These Thugs and Radical Left Monsters have just INDICATED the 45th President of the United States of America, and the leading Republican Candidate, by far, for the 2024 Nomination for President," Trump wrote, slipping on the banana peel of a word he should be aptly familiar with by now.
THIS IS AN ATTACK ON OUR COUNTRY THE LIKES OF WHICH HAS NEVER BEEN SEEN BEFORE. IT IS LIKEWISE A CONTINUING ATTACK ON OUR ONCE FREE AND FAIR ELECTIONS. THE USA IS NOW A THIRD WORLD NATION, A NATION IN SERIOUS DECLINE. SO SAD!
Despite the humor, it's not promising for Trump to connect the indictment to "A CONTINUING ATTACK ON OUR ONCE FREE AND FAIR ELECTIONS," given the last time Trump whipped up so much anger around a central event, he incited an attack on the Capitol.
In a longer statement, Trump called the indictment "Political Persecution and Election Interference at the highest level in history."

Trump went on to falsely describe the Manhattan district attorney as being "hand-picked and funded by George Soros," peddling an antisemitic conspiracy about wealthy Jewish people influencing society.
Trump (who still faces three other criminal investigations) said he believes the so-called "Witch-Hunt" will "backfire" and mobilize his followers to beat Joe Biden.
While Trump is leading in the polls, he is yet to actually secure the Republican Party nomination; and while some may determine, ex-ante, that an indictment will make him a martyr, it merits saying, plainly: It's not great for an elected official to be criminally charged! And perhaps it can be left to the Republican primary voters to decide whether that matters to them—there's no need for the press to prematurely cast predictions and renege on communicating the basic fact that Trump is (still) unfit for office.
"Never before in our Nation's history has this been done," Trump complained. Perhaps this unwittingly highlights his especially high propensity to commit crimes—given how unclean the hands of past presidents have been.