Texas Man Sues Three Women for $1 Million for Helping His Ex-Wife Get an Abortion
The lawsuit is thought to be the first of its kind since the state's severe abortion law went into effect last year.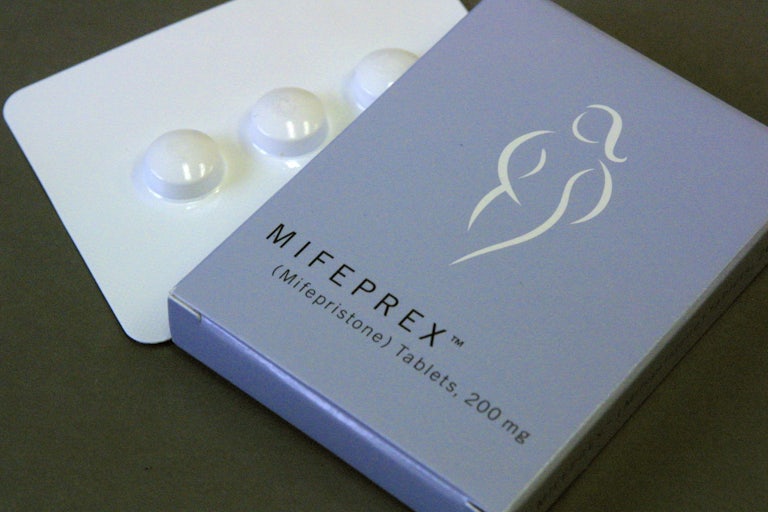 STORMI GREENER/Star Tribune/Getty Images
A Texas man is seeking more than $1 million in damages by suing three women who helped his ex-wife terminate her pregnancy.
Marcus Silva of Galveston County alleges that, after his then wife learned she was pregnant in July 2022, she conspired with two friends to illegally obtain abortion pills to end the pregnancy, The Texas Tribune reports. Roe v. Wade was overturned in June 2022, triggering Texas's ban on abortions with narrow exceptions.
Current state law allows any private citizen to sue anyone who "aids or abets" an abortion after about six weeks of pregnancy. Claimants can receive $10,000 in damage for each such case, incentivizing an essential witch hunt by residents to snitch on people who seek abortions. Silva's lawsuit reportedly is the first filed under the law.
Silva alleges that his then wife had received information about Aid Access, an organization that provides abortion medication by mail in and outside of the United States. The lawsuit cites text messages showing the two women finding access to the medication in Houston, where the women resided.
The lawsuit alleges a third woman delivered the medication to Silva's wife, and cited text messages indicating that she proceeded to carry out the abortion at home.
The couple, who have two daughters, divorced in February.
Silva's lawsuit is pursuing a wrongful death case, arguing that the three women who assisted his ex-wife's self-managed abortion are culpable for murder under state law. Former Texas Solicitor General Jonathan Mitchell, the credited architect of Texas's restrictive abortion ban, is representing Silva.
Mitchell also wants to add the abortion pill manufacturer as a defendant once it is identified, the Tribune notes. Along with the over $1 million Silva seeks, the lawsuit is pursuing an injunction to stop the defendants from distributing abortion pills in the state.
More on the Mess in Texas