Donald Trump Becomes First Former President to Face Criminal Charges
The Manhattan grand jury was investigating Trump's involvement in a hush-money payment to Stormy Daniels.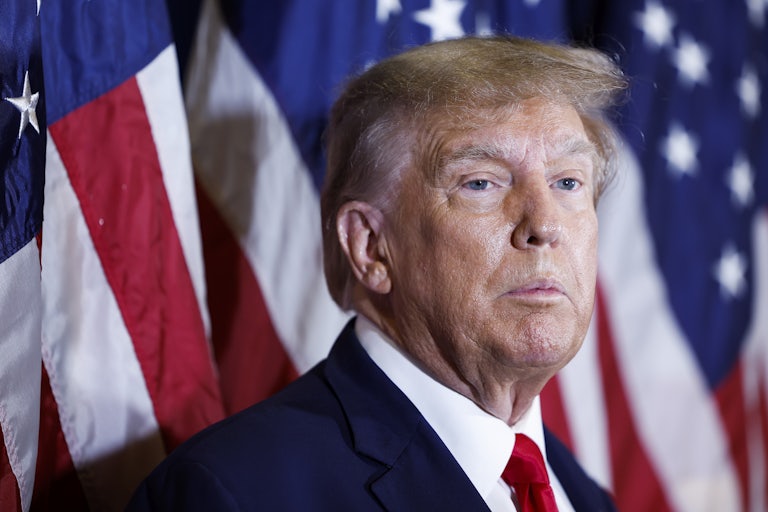 Anna Moneymaker/Getty Images
Donald Trump
Donald Trump has become the first former president to ever be criminally charged.
A Manhattan grand jury voted to indict Trump on Thursday, though the charges are not yet known, The New York Times and CNN have confirmed.
The grand jury has been investigating Trump for his connection to his lawyer Michael Cohen paying hush money to porn actress Stormy Daniels.
Cohen had admitted to paying Daniels $130,000 on behalf of Trump during the final weeks of the 2016 presidential election. Cohen was aiming to silence the actress from making public that she had shared a sexual encounter in 2006 with Trump, who was married to his current spouse, Melania, by then.
Cohen had paid Daniels through a shell company; he was then reimbursed by Trump, whose company subsequently filed the reimbursements as legal expenses. The Trump lawyer also coordinated former Playboy model Karen McDougal to be paid $150,000 by the National Enquirer tabloid magazine, in order to silence her own story about an alleged affair with Trump. The Trump organization shelled out $420,000 to Michael Cohen in 2018 after he finished his tasks as a good lackey.
Through a recording Cohen took of some of the conversations surrounding the payments, Trump can be heard asking how much will be needed for "the transfer of all of that info regarding our friend, David," in reference to David Pecker, the executive of the Enquirer's parent company.

"What do we got to pay for this? One-fifty?" he asked.
Trump has previously denied wrongdoing, and doubled down immediately after the indictment's announcement.
Trump, who is the leading candidate for the 2024 Republican nomination for president, still faces numerous other criminal investigations, including into efforts to overturn the 2020 presidential election and whether he and his family lied to lenders and insurers by overvaluing their assets.
This post has been updated.